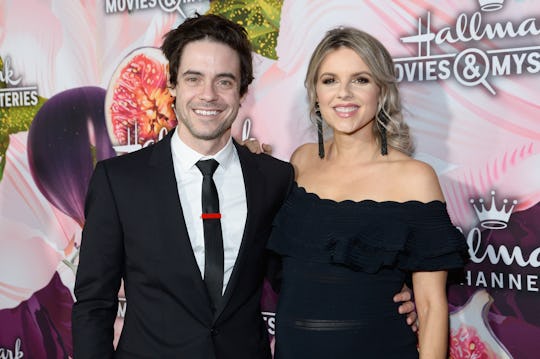 Tara Ziemba/Getty Images Entertainment/Getty Images
Brace Yourselves, Because Ali Fedotowsky Just Shared The *Cutest* First Photo Of Her Baby Boy
In case you missed it, former Bachelorette star Ali Fedotowsky-Manno and her husband, Kevin Manno, welcomed their second child into the world on Thursday. The news could not have been any more exciting for fans, members of the "Bachelor Nation," and those who have been following along Fedotowsky's post-Bachelorette journey for these past few years. But things are about to get even better, because on Friday afternoon, Fedotowsky's first photo of her newborn son arrived and it's just too sweet.
Fedotowsky took to Instagram on Friday afternoon where she not only shared the first photo of her newborn son, but she also revealed what she and Manno decided to name their baby boy. Although fans only had to wait for this photo only one day after it was first announced (on Instagram) that Fedotowsky had given birth, according to Us Weekly, the wait was well worth it. In the photo that she shared, you can see that her son has such distinct features — from his full lips to his cute button nose — and there are even hints that he has a full head of hair. And on Fedotowsky's Instagram Story, people got to see her son cuddling up with his mama and enjoying life at home for the first time. Seriously, babies don't get cuter than this.
His name — Riley Doran Manno — might be even cuter than the first photo of him.
Fedotowksy wrote on her blog, Ali Luvs, that the name Riley has a lot of meaning to it — it's a family name (from both sides) that just stuck with the little boy once he arrived into the world. Fedotowsky wrote:
I think the reason Riley felt so right to us is because we were able to bring our family into the name. Riley is kind of a tribute to our siblings. Really, his entire name is a tribute to all three of our siblings. Riley (Ry for short) is honoring Kevin's brother, Ryan and my sister, Raya (pronounced Rye-yuh). And Doran is my brother Michael's middle name and my mom's grandmother's last name.
"That's a name we're proud of and we'll know he'll be proud of, too," Fedotowsky concluded. Since Fedotowsky and Manno have so much confidence in their son's name, it's hard not to love it just as much as them. Looking at the first photo of Riley, you can tell that name perfectly suits him and Fedotowsky agrees. Fedotowsky wrote on her blog that Riley wasn't even in her top two baby names, but after their son was born, her and her husband could immediately tell that he was supposed to be named Riley — and you should never doubt a mother's intuition.
While the name Riley has a personal meaning for Fedotowsky and Manno, it also has a much grander meaning. In old English, according to Baby Center, Riley translates to "wood clearing." Riley is also a take on the Irish last name "Reilly," according to Baby Center, which translates to "valiant." Being valiant — or courageous, bold, and brave — are all traits that any person would want to bestow at some point in their lives or carry with them at all points of their lives. Therefore Fedotowsky isn't asking too much of her son by naming him Riley.
Although Riley was only born just one day ago, he is already displaying some strong traits of his own, according to Fedotowsky. Fedotowsky wrote on her blog that her son has been a "super good baby" the past two days. He is "super tough, barely cries, and so far sleeps a ton," Fedotowsky wrote.
The best part about Fedotowsky sharing her son with fans so soon after his birth means that there are only more photos and blog posts of Riley to come. Yay!