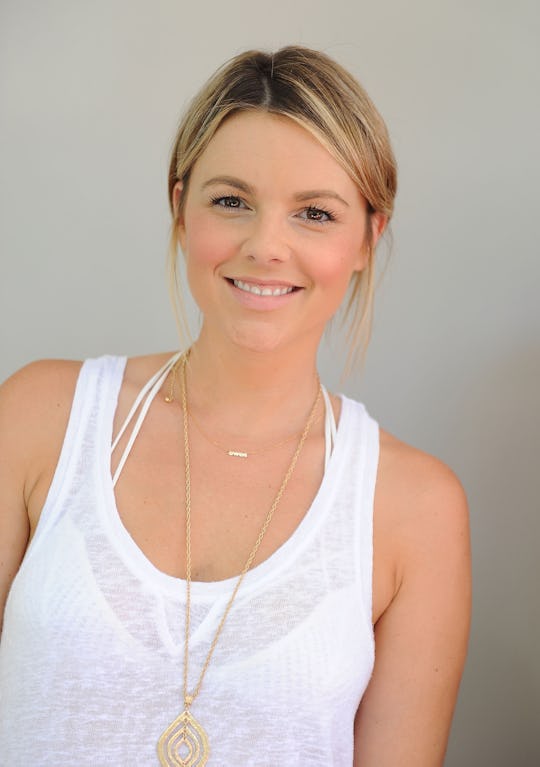 Angela Weiss/Getty Images Entertainment/Getty Images
Ali Fedotowsky's Top Parenting Tweets Prove She's Got Motherhood Down
It's been little over a month since Ali Fedotowsky gave birth to her adorable daughter Molly Sullivan Manno, and the new mom has already had the full motherhood experience — including everything from sleepless nights to way-too-cute Instagram snaps. Luckily for fans, she's embraced it all with humor, honesty, and plenty of sharing (bring on the cute baby pictures). Ali Fedotowsky's top parenting tweets prove she's got this whole motherhood thing down. Or at least, you know, as down as most new mothers feel.
The season six Bachelorette gave birth to Molly just over five weeks ago, on July 6. Molly is Fedotowsky and fiancé Kevin Manno's first child following their engagement last September. (Just in case you were asking the same question I was, no, Manno and Fedotowsky did not meet on the set of The Bachelorette — they were friends who first started dating publicly in 2013.) Soon after Molly was born, Fedotowsky told Us Weekly:
This little angel is not even a day old and is already our entire world.
Judging by Fedotowsky's recent social media posts, her sentiments haven't changed — but she's also gotten way more familiar with Molly's pooping schedule, sleeping habits, and breastfeeding dilemmas, and she's willing to share that all with fans.
All Those Serious Questions You Never Considered
That Joy You Feel When Your Baby Sleeps...
... & That Joy You Feel When She Wakes You Up
When Having A Newborn Gives You Different Priorities
On her blog, Fedotowsky wrote about meeting a few friends (many whom were pregnant or new mothers) and noticing how motherhood had changed their lives. "It makes me smile to see how our hangouts have changed," she wrote. She explained:
A year ago we were all hanging at that exact restaurant and getting buzzed! Now we all slowly sip one drink (with a DD of course! Kevin drove) and love on our children/share our mommy experiences. I've always believed that we wouldn't have to stop doing the things we did pre-baby, we just do things a bit differently now. And I like the new normal.
... Or Some Straight-Up Competing Priorities
When You Really Want To Mix Breastfeeding & Tweeting & Watching The Bachelorette, But It's Just Not Happening
That Moment When The Dad Jokes Start
When Everyone Is In Love With Your Baby (Including The Dog)
Fedotowsky even shared on her blog, Ali Luvs, that she considers her and Manno's dog Owen their "first child." "He loves his sister so much!" Fedotowsky wrote on her blog. "When he comes home from a walk with Kevin, he used to sprint into the house to greet me. Now he runs right by me and goes straight to Molly. He is so protective of her."
Baby Molly has been here for just over five weeks, but Fedotowsky is already making her motherhood experiences relatable, aww-inspiring, and hilarious. Here's to more awesome posts during Fedotowsky's first year of parenting!