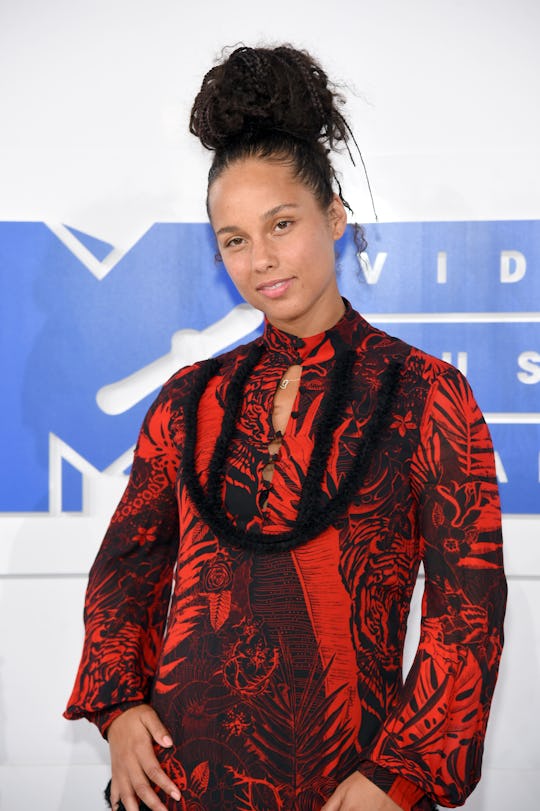 Jamie McCarthy/Getty Images Entertainment/Getty Images
Alicia Keys' VMAs Poem Was Met With A Standing Ovation
In honor of the 53rd anniversary of Dr. Martin Luther King Jr.'s "I Have A Dream" speech, Alicia Keys took the opportunity to acknowledge the civil rights activist with a poetic, half-sung speech of her own. Alicia Keys' VMAs poem preached of equality and was met with applause and a standing ovation from the celebrity-studded crowd.
In a long-sleeved red dress; glowy, make-up-less skin; and a braided up-do, Keys began: "If war is holy and sex is obscene then we got it twisted in this lucid dream. Baptized in boundaries, schooled in sin, divided by difference, sexuality, and skin." Then she began to sing: "So we can fear each other, hate each other, we can break these walls...." She later crescendoed: "Oh, maybe we can love somebody." After this two-minute bout of poetry and singing, she thanked the crowd. Jaden Smith stood to clap, along with Nick Cannon, Troye Sivan, the Final Five, and plenty others. She finished: "I still believe in that dream that one day our nation is gonna rise up and finally, finally be completely about the true meaning of this creed that all women and men are created equal." She then proceeded to introduce the nominees for best male video, and ultimately announced that Calvin Harris had won.
Alicia Keys' poetry has been spoken onstage before. Keys performed her piece "P.O.W." at Def Poetry Jam in 2008. Her poem's refrain echoes "I'm a prisoner / Of words unsaid / Just lonely feelings / Locked away in my head." The poem can be found in her 2005 book Tears for Water: Songbook of Poems and Lyrics.
Keys' words were a heavy albeit inspiring moment on an otherwise jokey night. Though Hailee Steinfeld tweeted "Alicia Keys. That was everything.," Keys' spontaneous poetic inspiration wasn't taken as seriously by all. Naturally, Twitter sounded off with displeasure, calling the moment more of a shout than a sing. Many also likened her behavior to that of your friend who wrote all those poems in college (yeah, you know, that friend) and would recite one to you at the drop of a hat, without invitation. Whereas everyone could agree that Keys looks flawless without make-up, the perfection of her poetry was questioned.
Regardless of specific line breaks or whether or not it was pitched in the right octave, Keys should be applauded for putting herself out there and for taking a risk. Her message was a quick reality check amidst lighthearted commentary and celebs throwing shade.