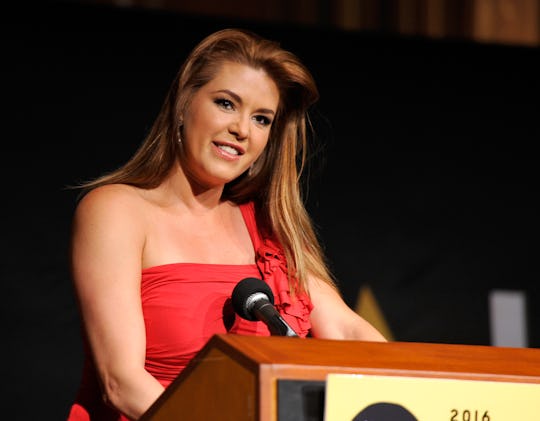 Alicia Machado Responds To Donald Trump's Sex Tape Allegations & It Deserves To Be Read
Republican presidential nominee Donald Trump continues to show there is no boundary, no matter how vile or offensive, he won't pass. And his latest accusations against former Miss Universe Alicia Machado is just another drop in the bucket of his irresponsible words. On Friday morning he tweeted that Machado had a sex tape and should thus be discredited. Trump's campaign hasn't responded to Romper's request for comment, but Machado responded to Trump's sex tape allegations, and it's a statement that truly deserves attention.
Her Instagram post translated to English reads:
The Republican candidate and his campaign team are again generating attacks, insults and trying to revive slanders and false accusations about my life. All this in order to intimidate, humiliate me and discredit me again. The attacks that have emerged are slander and cheap lies, generated with bad intentions, which have no foundation and have been spread by sensationalist media. This, of course, is not the first time that I've faced such a situation. Through their hate campaign, the Republican candidate insists on discrediting and demoralizing [women], which is definitely one of [his] most terrifying features. [By doing so], he seeks to distract attention from his real problems and his inability to pretend to be the leader of this great country.
When was a young girl, the now candidate, humiliated me, He insulted me publicly, disrespected me, as he usually did privately in the cruelest way. As this happened to me, it is clear through the years, that his actions and behavior have been repeated with other women for decades. Therefore, I will keep standing, sharing my story, my absolute support of Mrs. Clinton on behalf of women, my sisters, aunts, grandmothers, cousins, friends and female community. My Latinas, in general, I want to thank for all the support, love and respect [they've shown] my career, me as a human being and my family. I became a citizen of this great country because my daughter was born here and because I wanted to exercise my rights, including voting.
I will continue to stand firm in my lived experience as Miss Universe and with you supporting me. I've been so pleased with the many kind words and so much love. I'm focusing on my busy career, my work as mother and I will continue taking positive steps for the Latino community, I will continue as an activist for women's rights and fight for the respect we deserve. I appreciate all your love and all your support again, thanks. Thousands of blessings.
Machado, born in Venezuela, has been involved in a back-and-forth of accusations with Trump – especially after the former Miss Universe, who was crowned in 1996, starred in an ad campaigning for Democratic Party presidential nominee Hillary Clinton.
According to Machado, Trump, around the time she was crowned, would reportedly say offensive things to her about her weight calling her "Miss Piggy" or a racially-fueled remark, "Miss Housekeeping." Machado's story gained an enormous amount of traction after Clinton referenced Trump's alleged remarks saying, "Donald, she has a name."
According to a report by The New York Times, Jessica Ditto, a spokesperson for Trump, denied Machado's claims, saying they were "totally baseless." But in a video clip in the campaign ad featuring Machado, Trump can be seen and heard saying "She weighed 118 pounds or 117 pounds, and she went up to 160 or 70, so this is somebody that likes to eat."
Back in August, Machado published an Instagram post celebrating becoming an American citizen, which will allow her to vote for Clinton. "I so proud and inspiration to be a U.S. Citizen! I'll be Voting! All my power and my support become with my next President [ Hillary Clinton] Miss Housekeeping and miss Piggy Can Vote [Donald Trump]"
Trump's latest remarks on Machado are a continuation in what has been a firestorm of news surrounding Machado after Clinton introduced her story to the debate stage. Trump called Machado "disgusting" in a tweetstorm early Friday morning, while referencing an alleged sex tape.
Trump's camp have also referenced previous reports that Machado was once accused of driving a getaway car in Venezuela for an alleged attempted murder committed by her then-boyfriend in the late 1990s, The Times reported. A Venezuelan judge also accused Machado of threatening him – Machado did not face charges, and denied the judge's claims.
In an interview with CNN, Machado responded to the resurfaced reports, instigated by the Trump camp:
He can say whatever he wants to say I don't care. You know, I have my past, of course everybody has a past. And I'm no saint girl. But that is not the point now ... (Trump) was really rude with me, he tried to destroy my self esteem. And now I'm a voice in the Latin community. I'm in a great moment in my life and I have a very clear life. And I can show my taxes.
Machado's remarks about Trump's past behaviors are pretty damning – but once again, Trump responding with an inherently sexist (based on his perceived intentions to exploit her sexual activity as a means to discredit her), and valueless remark about her only further explains why he's struggling with women voters.