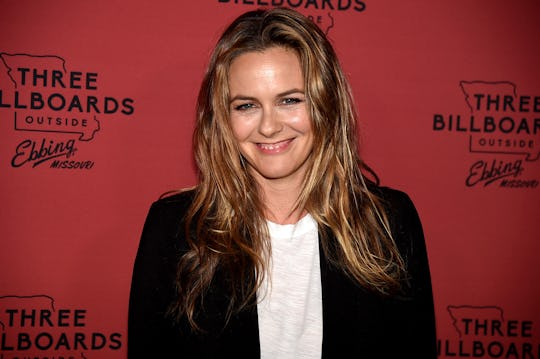 Kevin Winter/Getty Images Entertainment/Getty Images
Alicia Silverstone Is Refreshingly Optimistic About Dating As A Single Mom Following Her Divorce
It's universally accepted that dating is, well, hard. Issues can crop up everywhere — from your political beliefs to your family values to differing relationship expectations. And when you're a single parent and kids are now part of the equation, dating can seem even more complicated. But actress Alicia Silverstone recently opened about dating following her divorce and as a single mom, and her perspective on this new chapter in her life is very refreshingly optimistic to hear, especially for parents who may be going through a similar experience.
In a new interview with Redbook, the newly single mom of her 7-year-old son, Bear, said that her divorce was "obviously" heartbreaking. "You don't ever think you'll be apart when you get married," she told Redbook. "All I can really say is that we'll co-parent Bear together, and this is completely a good thing for both of us." Silverstone split with husband Christopher Jarecki in March after 12 years of marriage (and 20 years together as a couple), according to Entertainment Tonight, and is now thinking about dating again.
When asked whether she's dating now, she told Redbook: "Yes, I go on dates, and I find it very fascinating meeting interesting, intelligent, different people. I'm super excited about being available and open to whatever's next."
That's just kind of viewpoint many people might associate with Silverstone, thanks to her most famous role as the equally irrepressible high-schooler Cher in the 1995 classic, Clueless. But she did admit that dating in her 40s is much different. "Of course there's tons about it that's confusing. I call my girlfriends and I'm like 'What does this mean?'' she told Redbook.
This isn't the first time the 41-year-old actress — who is currently starring in Paramount's American Woman — has opened up about motherhood and life post-divorce. Recently, Silverstone spoke with Us Weekly about some of the paradoxes that come with parenting, and how it's full of both joy and heartache, explaining:
The whole idea is that you love and attach to them so much so that they're free to be and leave. It's heartbreaking, but you have to.
Silverstone seems to feel that her fierce attachment also gives her son confidence to grow. "My kid's so fiercely independent because he is right here all the time [points to her heart]. He's so great," she told Us Weekly.
Silverstone also touched on motherhood in her recent interview with Redbook, revealing that she hopes Bear "sees that Mommy's passionate about life, and maybe that will inspire him to find his passion in life and live it to the fullest."
Beyond her career, one of those passions is most notably is that she is an outspoken vegan, according to SELF, and chooses to feed her son a primarily vegan diet. But, as she told Redbook, she realizes that parenting requires you to be a bit flexibility at times. I'm really open to Bear being a little bit flexible out in the world. "When he is with other kids who are eating regular pizza — if there's no vegan pizza, I want him to have the pizza," she told Redbook.
While Silverstone is exploring the world of dating after several years of marriage, it's clear that her and Jarecki's main priority is their shared love of their son, Bear. When the couple first announced their split, according to USA Today, they said in a statement that "they still deeply love and respect each other and remain very close friends" and they will continue to share custody of their son.
As many parents (and people everywhere) can understand, relationships don't always work out and it's sometimes best for everyone involved for them to end. Though, as Silverstone expressed, you never anticipate you'll divorce the person you marry, it's always nice to see when couples are able to make things work and, most importantly, find happiness as they move forward.