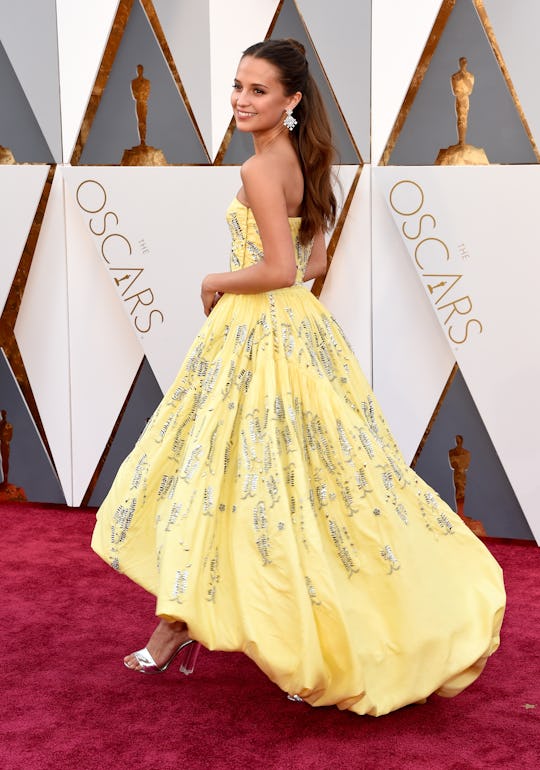 Jason Merritt/Getty Images Entertainment/Getty Images
Alicia Vikander Looks Like Belle, Ariana Grande, & More At The Oscars
The Danish Girl actress Alicia Vikander was channeling a little bit of a Beauty and the Beast vibe at the Oscars on Sunday night — but that wasn't all. As she made her way down the year's biggest red carpet, some fans suggested that perhaps Vikander looked like Ariana Grande as well... and still others compared her to the cheery character, Happy, from Inside Out. With her bright yellow Louis Vuitton gown and sleeked back half-top knot, Oscar nominee Vikander looked like everyone from Belle to fictional cartoon characters and pretty much everything in between.
Vikander is nominated for Best Supporting Actress for her role in The Danish Girl, and this is her first nomination. The film is definitely getting attention this awards season, and her co-star Eddie Redmayne is up for an award in the Actor in a Leading Role category. While speaking to Ryan Seacrest on the red carpet, Vikander said, "I'm at the Oscars – crazy! I'm like, just being here, I have like butterflies in my tummy. I do feel like being here is pretty extraordinary."
You have to admit, she looks just a bit like Belle from Beauty and the Beast.
Not to mention this gorgeous, animated girl:
Vikander looked stunning, and the comparisons to Ariana Grande and a couple of the world's favorite Disney characters were spot-on — and way too cute. If Vikander takes home an award, she'll certainly be wearing the perfect dress to take the stage.