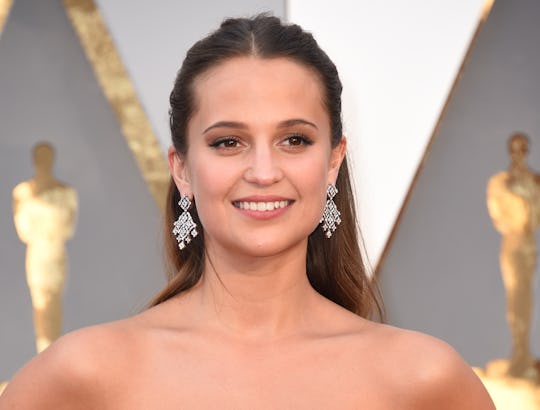 AFP/AFP/Getty Images
Alicia Vikander's Oscars Dress Was Totally Unexpected & Completely Gorgeous
Alicia Vikander has juggled many roles in her life, not the least of which, apparently, happens to be "fashion icon." The Best Supporting Actress nominee has spent the past 27 years jumping from career to career, starting off as a classically trained ballet dancer before eventually landing herself a coveted spot among the silver screen elite for her role in last year's sweeping historical drama, The Danish Girl. Now, with fans having caught a glimpse of Vikander's glamorous Oscars dress at the year's biggest red carpet on Sunday, it seems she can add style maven to her resume as well.
Vikander's stylist, Victoria Sekrier, certainly has a reputation for being a sartorial risk-taker, having been a model herself. According to The Daily Mirror, Sekrier once interned at quirky-chic design house Anna Sui before moving into a career as a personal stylist. Vikander's now-famous embellished leather Louis Vuitton column dress, which the actress donned at the BAFTAs earlier this month, was selected by Sekrier as well, so pairing the duo for the Oscars was guaranteed to produce another stunning fashion hit.
Making her way down the red carpet in a sunny yellow, paillette-encrusted, hi-low Louis Vuitton gown, Vikander was the picture of perfection. The graceful starlet topped off her gorgeous look with art-deco chandelier earrings, a half-up top knot (looking a bit like Disney princess Belle from Beauty and the Beast), and soft, bronzy makeup, as well as a pair of silver strappy high-heeled sandals.
Vikander gave fans a sneak peek at her fashion savvy ways last week, attending two pre-Oscar bashes in a flowing, floral Erdem midi-dress that seemed to drape across her frame perfectly. The Danish Girl actress completed the look with a pair of suede, dove-gray, ankle strap pumps and understated jewelry, styling her hair into undone waves that gave the dress the soft gown the high-fashion twist it deserved.
Whether she takes home a coveted Oscar on Sunday night or not, it seems that Vikander has firmly established herself as a reliable fashionista.