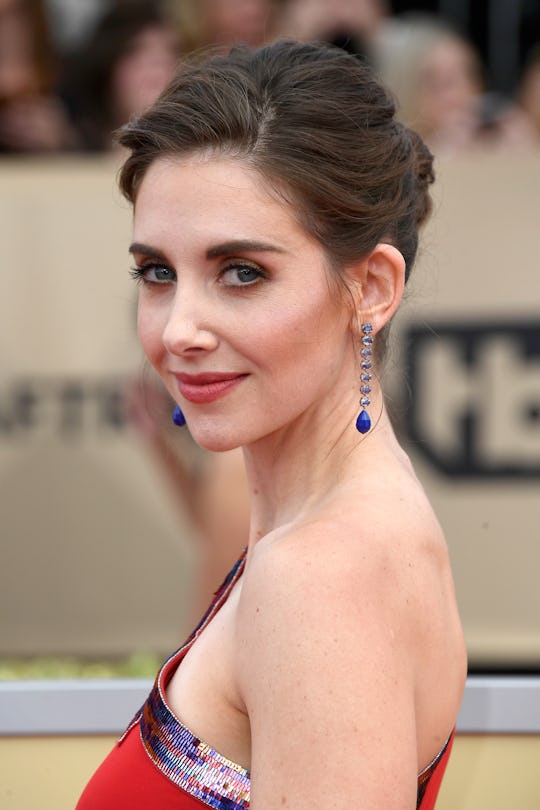 Frazer Harrison/Getty Images Entertainment/Getty Images
Alison Brie's Comments About James Franco At The SAG Awards Were So Awkward
The 2018 SAG Awards Red Carpet show didn't shy away from asking attendees difficult questions about the #MeToo and Time's Up movements, and among the more awkwardly handled interviews was Giuliana Rancic's chat with the star of GLOW and one of the night's nominees. Alison Brie responded to James Franco's allegations on the SAG Awards Red Carpet and, although she tried to be diplomatic, she definitely waded into some uncomfortable territory.
Rancic didn't mention him by name, but rather asked Brie her thoughts on #MeToo in light of the allegations against "[her] brother-in-law," in reference to Franco. (Brie is married to Dave Franco, James' brother and one of the stars of Netflix ensemble vehicle Easy.) Earlier this month, Franco was accused of sexual misconduct by five women in a report by the Los Angeles Times. A representative for Franco did not immediately respond to Romper's request for comment.
The report broke just four days after he collected the Golden Globe for Best Actor in a Musical or Comedy for his work in The Disaster Artist. He wore a Time's Up pin to the event in supposed solidarity with the movement. The night of the Golden Globes, The Breakfast Club star Ally Sheedy, whom Franco directed in an Off-Broadway play, voiced her dismay with his win in a now-deleted tweet which read, "James Franco just won. Please never ever ask me why I left the film/tv business."
Just before the LA Times report was published, Franco responded to allegations against him in an interview on The Late Show with Stephen Colbert. Said Franco:
I haven't read [the accusations.] I've heard about them. The things that I heard that were on Twitter are not accurate but I completely support people coming out and being able to have a voice because they didn't have a voice for so long. So I don't want to ... shut them down in any way.
Franco also talked to Meyers about the allegations, claiming that the stories against him are "not accurate," though he knows "there are people that need to be heard," according to Vulture. He added:
I have my own side of this story, but I believe in these people that have been underrepresented getting their stories out enough that I will hold back things that I could say just because I believe in it that much," he said. "If I have to take a knock because I am not going to try and actively refute things then I will, because I believe in it that much.
Brie essentially echoed his stance on the red carpet, saying in her interview:
I think that above all what we've always said is it remains vital that anyone that feels victimized should and does have the right to speak out and come forward. I obviously support my family. Not everything that has been reported is fully accurate, so I think we're waiting to get all the information. But of course now is the time for listening and that's what we're all trying to do.
It's frustrating to hear stars engage in this odd form of double-speak where they say that it's important to listen to victims while also implying that the victims could be misreporting events. The entire notion of "accuracy" when talking about an allegedly shady sexually-charged exchange isn't really the point. For meaningful restorative justice to take place, we have to acknowledge that it's possible for two people's experiences of an event to be completely different. To say that a victim's account is inaccurate is basically to call their feelings (of being victimized, attacked, dismissed, or diminished) inaccurate. Feelings can't be right or wrong. There's either harm done or there isn't, and whatever transpired for harm to pass doesn't matter as much as the fact that it was harmful.
It's OK for a person to admit that they didn't realize they were harming someone, but to imply that a victim's story may not be fully accurate when they're simply recalling their experience and the impact of it on their lives is callous. And more importantly, it does nothing to push the conversation forward.
Check out Romper's new video series, Romper's Doula Diaries:
Watch full episodes of Romper's Doula Diaries on Facebook Watch.