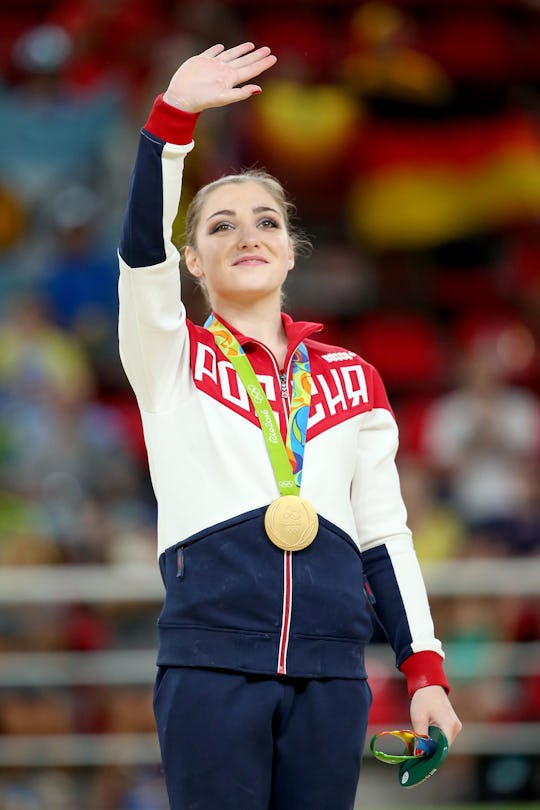 Alex Livesey/Getty Images Sport/Getty Images
Aliya Mustafina Said The Doping Scandal That Plagued Her Team Didn't Distract Her
With her Russian teammates facing sanctions for doping, gymnast Aliya Mustafina arrived in Rio for the Olympics under a cloud of suspicion. Leading up to the Games in Rio, a report was released implicating the Russian team in widespread, state-sponsored schemes to subvert drug tests resulting in rules that required any Russian athlete to prove they were innocent before being allowed to compete. But one gymnast gave a quote indicating it was no biggie as far as she's concerned. Aliya Mustafina spoke on the doping scandal and called it "inconvenient."
Acording to USA Today, Mustafina learned only days before the start of the Rio Games whether she would be allowed to compete. But, she said, ultimately, all of the doping drama had little impact on her performance.
"It was inconvenient," Mustafina said, according to USA Today. "There were more inconveniences but we tried not to think about it and carry on with our work as normal as possible."
She added that the other athletes hadn't treated her any differently in the wake of the doping allegations contained in a report from the World Anti-Doping Agency. WADA alleged that Russian sports officials oversaw a widespread doping program during the Sochi Winter Olympics, even coming up with a work around for the tamper-proof caps on urine samples, according to TIME.
Of the 389 Russian athletes seeking to compete in Rio, less than 300 has been cleared by the International Olympic Committee, the BBC reported. There were additional athletes being cleared as the Games went on, according to BBC.
USA Today reported that the Russian team was booed during the Rio Olympics opening ceremony. But it wasn't the crowd that had Mustafina rattled, it was the competition.
"It's going to be really difficult to compete against the American team," Mustafina told USA Today. "We need to fight. We need to do our best and see what happens but it's going to be quite difficult." During the Rio Games, Mustafina led the Russian team to the silver medal, according to NBC Olympics.
She won the bronze in the all-around behind Simone Biles and Aly Raisman. Sunday night, she took home gold in the uneven bars championship. She also won the gold medal in the same event in the 2012 London games.
So it turns out Mustafina wasn't just acting tough, the Russian doping scandal might have impacted the performance of other athletes, but not her. And she's won the hearts of millions of fans through her gutsy performances.