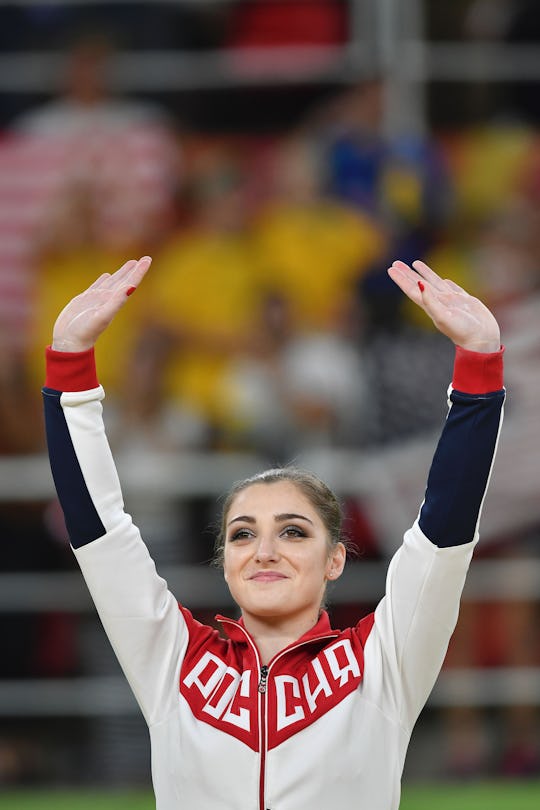 BEN STANSALL/AFP/Getty Images
Aliya Mustafina Wins Uneven Bars Gold In Rio, Madison Kocian Wins Silver
On Sunday, Russian gymnast Aliya Mustafina took home the gold medal in the women's uneven bars final event in Rio, with Madison Kocian snagging silver. Mustafina's win marked the first non-American women's gymnastics gold since the 2016 Olympics kicked off in Brazil, and her performance on uneven bars earned her a score of 15.900. This is Mustafina's second Olympic gold on the uneven bars, thanks to her win in London in 2012, and her repeated status as defending champion has made her the second woman to win uneven bar gold two years in a row (an achievement first accomplished by Russian gymnast Svetlana Khorkina in 2000).
This isn't Mustafina's first medal in Rio, either. Leading up to Sunday, the 21-year-old gymnast won silver in the women's team all-around and took the bronze medal in the women's individual all-around. The wins are a victory for Mustafina, who, according to NBC, endured rumors about her health and the possibility of an Olympic ban against all Russian athletes this year. Despite challenging circumstances (and great performances by the American team), Mustafina brought her best to Rio, delivered an impressive show on the uneven bars, and kept her spot at the top of the podium.
Mustafina knew that Rio was going to be challenging, thanks to questions regarding the Russian doping scandal and the United States' strong performance this year. "There were more inconveniences but we tried not to think about it and carry on with our work as normal as possible," she told USA Today before competing. "It's going to be really difficult to compete against the American team. They are unbeatable at the moment."
Reactions to Mustafina's gold win were quick to roll in on social media, with many praising the young gymnast's victory (okay, well, 2008 Olympian Shawn Johnson was a little disappointed by Mustafina's gold, but you can't win 'em all, right?):
Mustafina's medals in Rio are a testament to the Russian gymnast's athleticism and razor-sharp dedication. At 21, there's no guarantee that Mustafina will be back for more Olympic wins in Tokyo, since most champions win young and retire early. Mustafina also told Rewriting Russian Gymnastics' Elena Vaitsekhovskaya in July that she planned to leave gymnastics with no regrets.
"I do not think I will be bored without gymnastics," Mustafina said. "I have had a good career, with nothing to complain about, and I certainly haven't been unlucky."
If Mustafina does decide to bow out of gymnastics following Rio, she's certainly going out with a big bang. I have a feeling that no matter what's next for the Russian gymnast, she'll crush it.