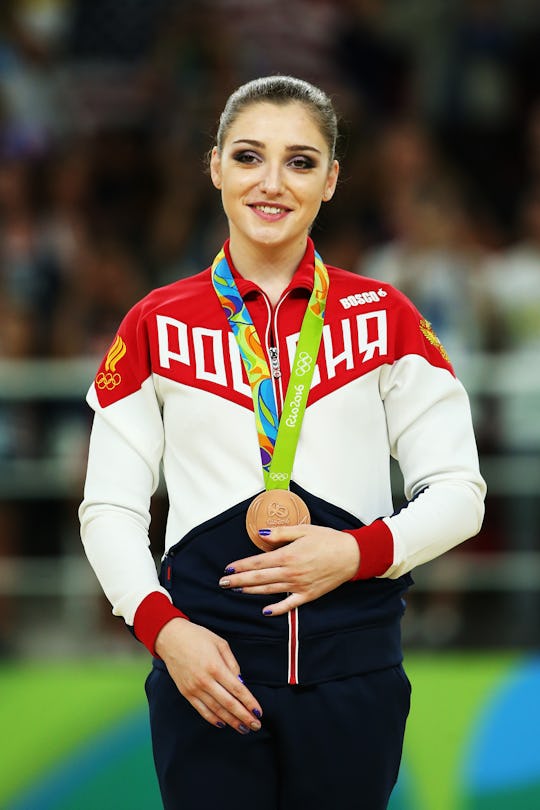 Alex Livesey/Getty Images Sport/Getty Images
Aliya Mustafina's Bronze All-Around Medal Is Important In More Ways Than One
Winning bronze in the individual all-around for her second Olympic games in a row, Aliya Mustafina's performance spoke volumes. Her efforts not only reflected her personally — they also spoke to her team's achievements as well as Russia's Olympic standing in a time where the country's representation is rather low. An astounding 118 of Russia's 389 athletes were banned from competing in Rio due to rampant doping. Aliya Mustafina's bronze all-around medal is important in more ways than one, as she needed to score high marks in order to up her country's dented medal-count.
Mustafina resisted any suggestion that the doping scandal affected her performance, instead labeling it "inconvenient." Though the Russian women's gymnastics team wasn't cleared to compete until the Thursday before the competition, Mustafina told USA Today that the team "tried not to think about it and carry on with our work as normal as possible." She also noted that there wasn't any mistreatment to her or her fellow athletes based on the doping allegations, saying that "personally, [there has been] nothing for me and I haven't noticed anything different."
She might be alone in that sentiment, though. Russian archer and medalist Tuyana Dashidorzhieva spoke to the uncertainty that the doping allegations promoted in the days leading up to the event, ultimately asserting that she and her teammates "do think politics has something to do with it somehow." Russian swimmers have been booed, too, as fans align themselves with whichever team is opposing the perceived enemy, vocalizing their distrust.
Both before and after competing, Mustafina appears to remain focused on her own accomplishments, and not necessarily the accomplishments of her home country. She's shown immense respect for the U.S. Women's Gymnastics Team, saying that "it is very important when there is a team in gymnastics that you have to follow," and marveling at gold-medal winner Simone Biles' skill-level. In the 2012 London Olympics, Mustafina won a bronze medal for her floor routine, a silver in the team all-around, a bronze in the individual all-around, and a gold in the uneven bars.
At 21 years old, it's not a given that Mustafina will compete in the 2020 Olympics in Tokyo. Save fellow 21-year-old Maria Paeska, Mustadina's fellow teammates are all teenagers, and women's gymnastics is a sport that values youth, with a few exceptions. By 2020, Russia will hopefully have adhered to the expected doping regulations, enabling more of their athletes to compete and putting less pressure on prized athletes to out-perform other countries. But until then, they at least have the high-flying, podium-grabbing Mustafina to cheer on.