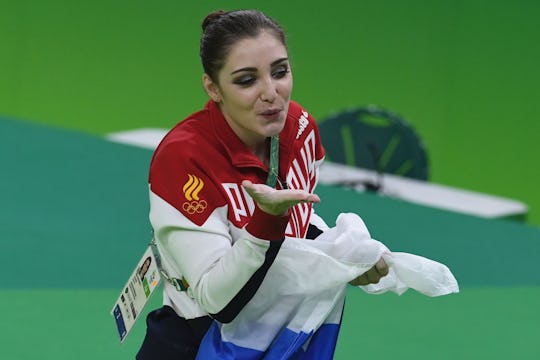 TOSHIFUMI KITAMURA/AFP/Getty Images
Aliya Mustafina's Instagram & Twitter Feeds Show How Authentic She Really Is
On Sunday, Russian Olympic gymnast took home the gold for her country in the women's uneven bars at the Rio Olympics, defending her gold medal in the same event at the London Summer Olympics in 2012. As she blew kisses to the crowd Sunday night at the Rio Olympic Arena in Brazil, Twitter returned its well wishes by showering Mustafina with social media love, congratulations, and kiss emojis of its own. Following the 21-year-old gymnast from Moscow on social media can be it's own kind of challenge: Aliya Mustafina's Instagram and Twitter accounts have not been officially verified.
Neither account bears the official "Verified" blue checkmark badge next to her name on both social media sites. There are several Twitter and Instagram accounts claiming to be Mustafina that are actually run by loyal fans. Turns out there's plenty of Mustafina wannabes — but there's only one bona fide gold medal Olympic gymnast. To help alleviate confusion, Mustafina has wisely used the same handle for both her Twitter and Instagram accounts: @musaliya135.
Mustafina's Twitter and Instagram feeds are fun to follow, giving fans a sneak peek at her life outside the gym. Here are six of Mustafina's best tweets and Instagram posts from the Rio Olympics.
She's Grateful To Be In Rio
After a prolific Russian doping scandal this year, the Russian Olympic delegation faced a ban by the International Olympics Committee. Its decision came down to the wire before the opening ceremonies in Rio: The IOC allowed 217 Russian athletes to compete at the Rio Olympics, including the Russian gymnastics team.
English Isn't Her First Language
With so many fake Aliya Mustafina Twitter accounts, it can be hard for the actual Olympic gymnast to direct her fans to her actual official Twitter feed. On top of that, fans must remember that Russian is her mother tongue, and she uses Google Translate when she posts in English. Google Translate isn't perfect, but don't let any broken English fool you: @musaliya135 on Twitter is the real deal.
She's Really Quite Gracious
After defending her gold medal in the uneven bars on Sunday night, Mustafina took to Instagram to thank a long list of people, from her family to her coaches and her fans, who helped her make it to the podium. Google Translate offers the following translation of part of her lengthy caption in Cyrillic: "I felt every second of their support and faith in me !!! All I've done here, everything was done for you # love #rioend #teamrussia"
She Adores Her Fans
Mustafina's Twitter account isn't run by any kind of social media manager or PR firm: All her tweets come directly from her. Many of her tweets, like this one above, show that she really cares about her fans' online support. She even will sometimes reply to and interact with her fans online, too.
She's A True Team Captain
As captain of the Russian gymnastics team, she drops her steely persona on the gym floor and will offer hugs of congratulation or condolence to fellow teammates. On Wednesday, she posted this photo showing her comforting fellow teammate Angelina Melnikova, when she failed to qualify for the women's individual beam final.
She's Proud Of Her Achievements
Mustafina is a mighty proud member of Team Russia, as she proudly held up the Russian flag after winning gold on Sunday. In this tweet from her winning night in Rio, she thanks her coach, Alexander Alexandrov. And why shouldn't she be proud? Mustafina has performed marvelously in these Olympic games and her Twitter and Instagram accounts have given fans plenty to celebrate.