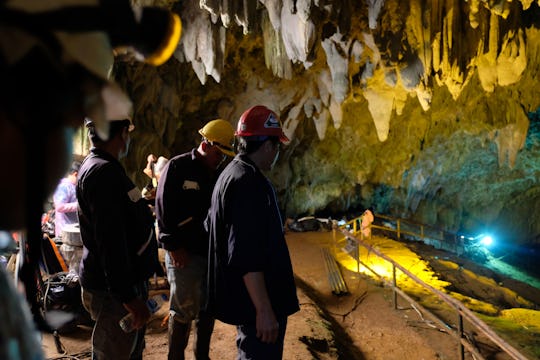 Linh Pham/Getty Images News/Getty Images
The Thai Soccer Team Has Been Rescued, But They Still Need Our Help
For 18 days, the world has been captivated by the story of a young soccer team in Thailand, the Wild Boars — consisting of boys ages 11-16 and their coach, 25 — who have remained trapped inside a flooded cave. After weeks of prayer and intense rescue planning and execution, all 12 Thai soccer players and their coach have been successfully rescued, CBS News reported. The remaining boy and his coach were pulled from the cave on Tuesday, thanks to a team of 19 highly-trained divers. Now that all 12 Thai kids have finally been rescued from the cave, here's how you can help them.
As CBS reported, the 12 boys and their coach became trapped on June 23 after they went exploring in the cave following a practice game. While inside the cave, monsoon flood waters filled passageways and ultimately prevented their escape. Terrifyingly, the team was trapped for nearly 10 days without anyone knowing where they were. Four of the 12 boys were rescued from 4 kilometers inside the Tham Luang Nang Non cave complex during a rescue operation that began Sunday, CNN reported. Highly-trained Thai Navy Seal divers were able to bring four more boys to safety on Monday, and the remaining four boys and their coach were rescued on Tuesday.
"We are not sure if this is a miracle, a science, or what. All the 13 Wild Boars are now out of the cave," the Thai navy SEALs posted on Facebook on Tuesday.
President Donald Trump issued a statement via Twitter on Tuesday, acknowledging the rescue mission's success, the New York Post reported. "On behalf of the United States, congratulations to the Thai Navy SEALs and all on the successful rescue of the 12 boys and their coach from the treacherous cave in Thailand," Trump wrote. "Such a beautiful moment - all freed, great job!"
The rescue mission was extremely risky one — as evident by the fact that one diver tragically lost his life while bringing oxygen to the trapped boys. As NPR reported, Saman Kunan was coming back from an overnight mission on Friday morning placing oxygen canisters when he lost consciousness and died. "This is the hardest mission we've ever done. The lower the water is getting, the stronger the current. It's stronger now. Every step of the extraction is risky," Narongsuk Keasub, a diver for the Electricity Generating Authority of Thailand, told a local news outlet. Add the ongoing threat of even more rain coming to the already risky rescue mission, along with dropping levels of oxygen in the cave and the clock was definitely ticking.
Now that — against all odds — all of the trapped players and their coach are out of the cave and in good health, what's next? Prior to the rescue mission, Thailand's Health Secretary, Dr. Jessada Chokedamrongsook, explained the boys would need to be quarantined for a period of time before they would be allowed to see their families, ABC News reported. During this time, doctors are now monitoring them for illnesses they may have picked up while trapped in the cave. This quarantine will also reduce their chances of infection, according to ABC News. Chokedamrongsook said they boys would be "be kept away from the parents for one to two days and will stay in the care room," before a further evaluation by doctors for five to seven days.
Currently, the eight boys who were rescued on Sunday and Monday are still in an isolation ward at a Chiang Rai hospital. As of Tuesday, they're free of fevers and "seem to be in high spirits," Chokedamrongsook told CNN. However, when they were first rescued these eight boys had very low body temperatures and two were suspected of having lung inflammation. The first four who were rescued have been able to see family members through a glass window and were also able to talk on the phone.
The soccer team will undoubtedly have some pretty hefty hospital bills when everything's all said and done. Based on the sheer number of volunteers involved in the rescue, the boys' local community has probably already anticipated this need. Still, one way for individuals to help the Thai soccer team from the U.S. would be to donate to a charity that helps children in Thailand. Organizations like UNICEF Thailand and Compassion.com could be good places to start — just make sure to note with the donation that it is to go toward the healthcare costs of the Thailand rescues.
It's difficult to imagine how terrified these boys and their coach must have been before they were discovered trapped in this cave. The long trek out of the cave must have been equally as stressful. But against all odds, they are all safe now. As the world breathes a collective sigh of relief at this story's happy ending, here's to hoping for 13 full recoveries — so they can get back to some sense of "normal" after finally being reunited with their families.