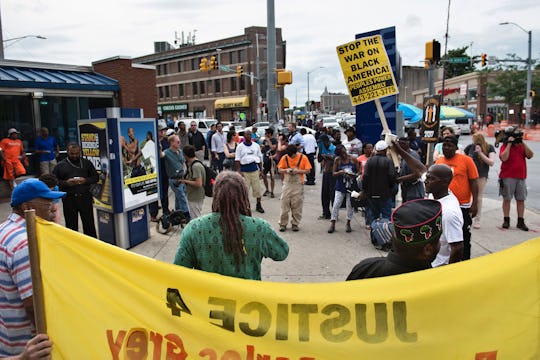 BRENDAN SMIALOWSKI/AFP/Getty Images
All Charges For Freddie Gray's Death Dropped
On Wednesday morning prosecutors dropped all charges against the three remaining officers involved in Freddie Gray's death in April 2015. The latest development comes after the acquittals of the other three officers involved in Gray's death in past months. The State will therefore secure no convictions in Gray's case, in which the 25-year-old suffered severe spinal injuries while in police custody, and died a week later.
Six officers were charged in Gray's death, and as of Wednesday morning, the charges against the remaining officers, Officers Garrett Miller, William Porter, and Sgt. Alicia White, were officially dropped. Porter went on trial in December but it resulted in a hung jury and mistrial, The Baltimore Sun reported. The three other officers involved, Officers Edward Nero, Caesar Goodson Jr. and Lt. Brian Rice, were acquitted of all charges by Circuit Judge Barry G. Williams, according to The Sun. Goodson Jr., 46, faced the most serious charge of second-degree depraved-heart murder.
Many around the world viewed the hard-to-watch video, filmed by Baltimore resident Kevin Moore, of Gray's arrest, where Gray can be heard crying out and officers can be seen putting the unarmed 25-year-old in a prisoner transport van. The officers reportedly did not secure Gray, whose ankles and wrists were shackled, in a seat belt in the police van. Many believed Gray fell victim to a "rough ride," a term with a long history in cities like Baltimore, in which police purposefully accelerate or suddenly stop their police vehicles, while transporting a civilian. According to an autopsy, Gray died from an injury that severed his spine. The state medical examiners ruled his death a homicide since officers failed to follow safety precautions "through acts of omission," The Sun reported. Gray's death sparked Black Lives Matter protests and demonstrations around the country in protest of yet another unarmed black life lost at the hands of police.
Baltimore State's Attorney Marilyn Mosby held what became a much-talked-about press conference last year in May, announcing the charges against the six police officers involved with Gray's death. In a press conference Wednesday, following news of the dropped charges against the remaining three officers, Mosby explained why she is not moving forward on the cases against Miller, Porter, and White.
"...As a mother, the decision to not proceed on these trials, on the remaining trials is agonizing," Mosby said. "However as a chief prosecutor elected by the citizens of Baltimore, I must consider the dismal likelihood of conviction at this point. The judicial economy in proceeding further, and the divisive impact in continuing this prosecution could potentially have on our community."
Mosby noted that, although the verdicts of the six officers didn't go in the prosecution teams' favor, a push for change in police practices have been underway since the charges – like the implementation of a police body camera program in Baltimore. "There have been many gains throughout this journey to ensure that what happened to Freddie Gray never happens to another person that comes into contact with police," Mosby said.
As The Atlantic pointed out, Gray's case represents the difficulty in prosecuting police officers, and is another drop in the bucket for the long list of police officers that are hardly convicted for murder.