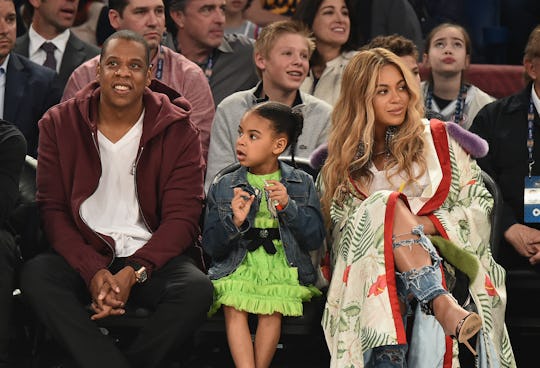 Theo Wargo/Getty Images Entertainment/Getty Images
All Of '4:44's Lyrics About JAY-Z & Beyonce's Kids
When Beyoncé released Lemonade in 2016, it promptly caused a massive freak out. And for good reason: in addition to being an impressive album in general, it also seemed to be the singer's way of revealing that her husband, JAY-Z, had been unfaithful. On Friday, the rapper released his latest album, 4:44, and in it, he was just as revealing as his wife had been, discussing in a number of tracks what seem to be his past transgressions, as well as some other heartbreaking details about his family life. Looking at all of 4:44's lyrics about JAY-Z and Beyonce's children shows that, in his latest work, the rapper wasn't even sort of holding back.
Given the anticipation surrounding 4:44's release, it's not exactly surprising that it took no time whatsoever for fans to deconstruct the album on social media. The general consensus? That JAY-Z seems to have used 4:44 as his way to respond to Lemonade. and to come clean about some very personal issues. According to The New York Post, the lyrics seem to show the rapper owning up to mistakes he's made in his relationship with Beyoncé, and the effect that fatherhood has had on his outlook.
Ahead of the album's release Friday, JAY-Z broke down the inspiration behind each track on 4:44 in an interview with iHeartRadio, and revealed that he used the songs as a way to comment on things like his own ego, the cultural obsession with money and success, and his role as a dad. But one thing he didn't mention were the numerous references in the album to his marriage, and the ways in which he seems to be admitting that he'd caused his family pain.
His Children's Births Changed His Perspective
In the album's title track — one which JAY-Z told iHeartRadio was "one of the best songs [he's] ever written" — the rapper offered up a public apology to Beyoncé for his past relationship mistakes, and admitted that it wasn't until he became a dad in 2012 that he actually realized the impact of what he'd done. Lyrics from 4:44 include, "I apologize, often womanize / Took for my child to be born / To see through a woman's eyes / Took for these natural twins to believe in miracles / Took me too long for this song / I don't deserve you."
But He Worries About How They Might Judge Him One Day
JAY-Z might be trying to right the wrongs of his past, but in the same track, he also acknowledged that, well, he's still going to have to answer to his kids when they're grown. According to Vulture, he wrote, "And if my children knew, I don't even know what I would do / If they ain't look at me the same / I would probably die with all the shame."
He Opened Up About Pregnancy Loss
Another big reveal in 4:44? That the superstar couple may have experienced multiple pregnancy losses. Although Beyoncé had previously shared that she'd had a miscarriage prior to welcoming their daughter, Blue Ivy, according to Us Weekly, JAY-Z's lyrics seem to suggest that there may have been more — and that he considered himself to blame:
So I apologize / I've seen the innocence / Leave your eyes / I still mourn this death / I apologize for all the stillborns / 'Cause I wasn't pressing / Your body wouldn't accept it.
And Realizing He Had To Be Better For His Daughter
As much as he confessed to in 4:44, it definitely wasn't the only track where he took himself to task for his behavior. In "Kill JAY-Z," the rapper admitted that he almost "let the baddest girl in the world get away," according to E! News, seemingly confirming rumors of his infidelity. (Beyoncé's representative hasn't responded to Romper's requests for comment regarding infidelity allegations that arose after Lemonade, but as of now, there's no actual proof that JAY-Z cheated.) But more than just realizing that he had to straighten up for the sake of his marriage, he rapped, "But you gotta do better, boy, you owe it to Blue / You had no father, you had the armor / But you got a daughter, gotta get softer."
His Kids Are His Motivation For Success
4:44 might have a lot to say about mistakes he's made with his wife and kids, but JAY-Z also made a number of comments about his career, and his priorities. The rapper told iHeartRadio that his track, "The Story of OJ," was about how "we all make money, and then we all lose money," but that it can ultimately be "[transformed] into something bigger."
For JAY-Z, that seems to at least in part mean creating financial security for his kids. According E! News, the song's lyrics include,
Financial freedom my only hope / F**k livin' rich and dyin' broke / I bought some artwork for 1 million / Two years later, that s**t worth 2 million / Few years later, that s**t worth 8 million / I can't wait to give this s**t to my children.
Given the anticipation surrounding 4:44's release, it's probably pretty safe to assume that JAY-Z's new album would have been a big deal no matter what. But the fact that he used it as an opportunity to both address the rumors that began swirling after Lemonade, and to apologize seems to be something that no one really expected.
For a couple who is so skilled at keeping details about their lives private, it seems even more significant that they've used their music to be so incredibly open about difficult topics. And while it's honestly kind of hard to hear that the Lemonade rumors could be true, it at least sounds like JAY-Z is determined to be a better version of himself for his family going forward.