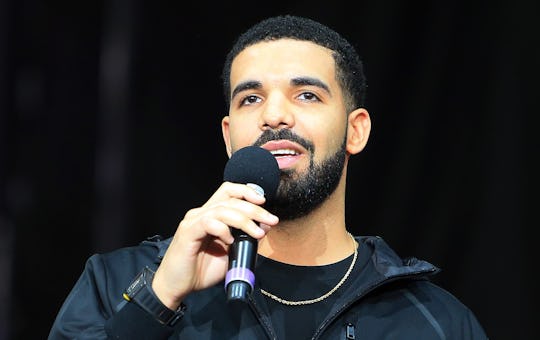 Vaughn Ridley/Getty Images Sport/Getty Images
Here Are *ALL* Of Drake's Lyrics About His Infant Son
Your favorite Canadian teen soap star just dropped a new album, and with it, he confirmed the long-standing rumor that he's a father (go ahead and take a lap around the stage like a Maury guest; I'll wait). The as-yet-unnamed child gets a shout out on three different Scorpion tracks, and Drake's lyrics about his son address the rumors — and his feud with Pusha-T — head on. What started out as your run of the mill "I have more street cred than you" rap beef got real when Pusha-T began referencing the allegation that Drake had secretly impregnated Sophie Brussaux, a retired French porn star, both in his lyrics, and in interviews.
Brussaux first publicly claimed to be carrying Drake's child in May 2017, according to TMZ, which his rep strongly denied. Here's their statement: "This woman has a very questionable background. She has admitted to having multiple relationships. We understand she may have problems getting into the United States. She's one of many women claiming he got them pregnant. If it is in fact Drake's child, which he does not believe, he would do the right thing by the child." Brussaux also claimed to have text messages from Drake asking her to get an abortion, and accusing her of trying to get money from him. Drake's rep did not immediately respond to Romper's request for comment.
Pusha-T, meanwhile, claimed to have even more dirt on the situation than the gossip sites. According to the New Yorker, he claimed that Drake planned to debut his son, allegedly named Adonis, by featuring him in a photo shoot for the launch of his upcoming Adidas clothing line, which he further claimed would be called Adidon in honor of the child, who lives in France with his mother. This narrative featured heavily in his late May track, "The Story of Adidon." An excerpt, courtesy of Genius:
A baby's involved, it's deeper than rap
We talkin' character, let me keep with the facts
You are hiding a child, let that boy come home
Deadbeat mothaf*cka playin' border patrol, ooh
Adonis is your son
And he deserves more than an Adidas press run, that's real
Love that baby, respect that girl
Forget she's a pornstar, let her be your world, yuugh!
Drake first mentions his child on the track "Emotionless," which also seems to be a direct response to Pusha-T. From Pitchfork:
I wasn't hiding my kid from the world, I was hiding the world from my kid
From empty souls who just wake up and look to debate
Until you staring at your seed, you could never relate.
"Seed." Real nice. The baby also gets a passing reference on "8 Out Of 10."
Kiss my son on the forehead, then kiss your ass goodbye
As luck would have it
I've settled into my role as the good guy.
But on the final track, "March 14," is all about the kid:
Yesterday morning was crazy, I had to come to terms with the fact that it's not a maybe
That shit is in stone, sealed and signed
She not my lover like Billie Jean, but the kid is mine
Sandy used to tell me all it takes is one time, and all it took was one time
Shit, we only met two times, two times!
And both times were nothing like the new times
Now it's rough times
I'm out here on frontlines, trying to make sure that I see him sometimes
It's breaking my spirit
Single father, I hate when I hear it
I used to challenge my parents on every album
Now I'm embarrassed to tell 'em I ended up as a co-parent
Always promised the family unit
I wanted it to be different because I been through it, but this is the harsh truth now.
It's just what every kid dreams of: becoming a footnote in a rap beef. Good luck to him.