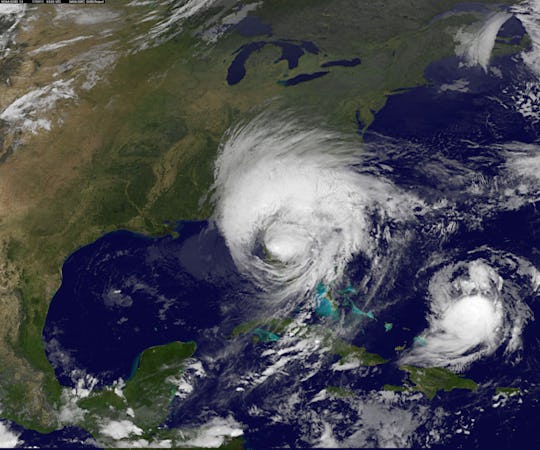 Handout/Getty Images News/Getty Images
Hurricane Jose's Projected Paths Into The U.S. Are Very, Very Unlikely
Hurricanes are unpredictable by nature, but still, meteorologists will try their best. But it looks like all of Hurricane Jose's projected paths into the U.S. have one thing in common: they're wrong. I mean, they're probably wrong. We just never know, so it's good to be prepared in case you are in one of the paths, but maybe don't freak out just yet. Wait until the National Weather Service tells you to do that. For now, meteorologist Evan Duffey told USA Today, there are no strong weather systems near Jose, which means it's on a slow, meandering path, rather than being pushed in one direction or another.
Luckily, Jose does not appear to be destined for Texas or Florida, so residents who are still recovering from Hurricanes Harvey and Irma will have one less thing to worry about. In fact, Irma — or what's left of her, anyway — might actually redeem herself just a bit, by pushing Jose away from the U.S. coastline. Jose is also weak, fluctuating between a tropical storm (that's winds of 39 to 73 miles per hour) and a Category 1 hurricane. It's unlikely that it will strengthen into anything particularly damaging, even if it makes landfall.
According to AccuWeather, it is possible that Jose could drift westward, causing some rain and wind as it nears the mid-Atlantic and New England coasts next week. The latest public advisory from the National Hurricane Center, which was published late Wednesday morning, states that Jose "is expected to make a slow clockwise loop during the next couple of days, moving west-northwestward by late Thursday." There are currently no watches or warnings in effect. An NHC chart of wind speed probabilities, also published on Wednesday, predicts that no area in the U.S. will experience hurricane-force winds as a result of Jose. The probability of sustained winds between 39 and 63 miles per hour is also minimal; the most at-risk area is currently Nantucket, Massachusetts, coming in at 7 percent.
If you're serious about tracking the storm, stay away from social media, where outdated models and outright false claims have Jose hitting North Carolina as a Category 1 or even New York City as a Category 3 (again, that's not happening, please don't panic). Some weather model aggregating sites have shown Jose heading toward land, but that's one path out of 100. It's not impossible, but it's highly, highly unlikely.
Last weekend, when Jose was a Category 4 storm (and darn close to Category 5), it passed through the Caribbean on a very similar path to the one Irma took, causing residents of Antigua and Barbuda to take shelter once again, according to the Washington Post. But thankfully, the islands were spared this time around. Ambassador Ronald Sanders told the Post that Jose couldn't have made things any worse on Barbuda, as it was nearly completely destroyed by Hurricane Irma. "There's no one there now," he said. "It's like a scene from winter without snow. No grass. No trees. It is just rubble." Barbuda's 1,700 residents have been evacuated to Antigua, which fared far better during Irma.
On Wednesday, Jose worked its way between Bermuda and the Bahamas, but stayed about 500 miles away from both, and it should start working its way north on Thursday, according to The Weather Channel. U.S. residents with zero chill should sit back and relax for the week, and maybe check in with their favorite weather apps once a day this weekend, just in case. If you're in Maryland or New Hampshire, your Sunday picnic might get rained out, but there's no need to stock up on bread and milk just yet.
Watch Romper's new video series,Romper's DoulaDiaries:
Check out the entire Romper's Doula Diaries series and other videos on Facebook and the Bustle app across Apple TV, Roku, and Amazon Fire TV.