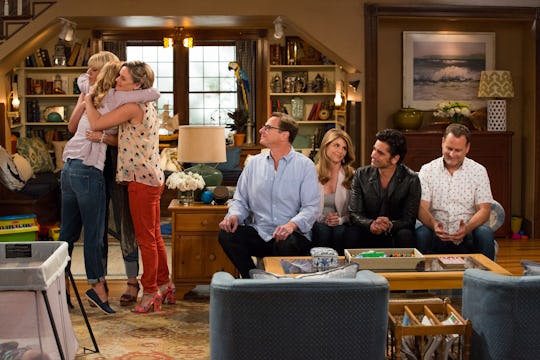 Michael Yarish/Netflix
All Of The 'Fuller House' References To 'Full House' You A Dose Of '90s Nostalgia
It's Fuller House day! Are you rocking your side ponytails and a plaid flannel tied around your waist like I am? No? Well, I suppose we each choose to relive the nostalgic staples of our childhood in our own ways. In the new Netflix premiere of Fuller House, be prepared for a trip down that '90s memory lane for which you've been waiting over 20 years. We've got all of the Fuller House references to Full House right here, so you can squee at all the clever little nods producers have spread throughout the series.
From bringing back 99 percent of the original Full House cast (ahem, Mary-Kate and Ashley Olsen) to all of the catchphrases we grew up with and repeated ad nauseam during the '90s, Fuller House — particularly the premiere episode — is definitely a sappy love-letter adoringly crafted to all the Full House fans through the years. There's no denying that Fuller House feels like a television anachronism, with its canned laugh track and periodic audience "woooOOoooo's" — but there's such a genuine earnestness to Fuller House that you can't help but chuckle along. Is Emmy worthy? No way — but boy howdy is it a whole lot of fun to watch. SPOILERS AHOY!
Throwbacks Galore
The premiere of Fuller House is a Full House reference overload. To be fair, it is considered the reunion for the show, so it brings back everyone from Danny, Jesse, and Joey to even Rebecca and the twins. And of course, Kimmy Gibbler and D.J.'s high school sweetheart, Steve Hale. Even Comet *raises a mournful glass* gets a mention. While there are many references to the original Full House in the premiere, here are some specifics:
A "gotcha" throwback using the original Full House opening credits to kick off the episode
Uncle Jesse dressing up his grandnephew as a mini Elvis Prestley
Kimmy Gibbler bursting through the Tanner's back door
All the important catchphrases: "How rude!" and "Cut it out" among the first
The best extended opening credits ever with side-by-sides from the original opening credits
Danny Tanner getting his daughters to "hug it out"
Uncle Joey whips out Mr. Woodchuck
Stephanie sings the '90s classic, "Forever" with the Rippers
A New Kids On The Block dance break
Steve Hale raids the fridge for leftovers
A classic Tanner family meeting, led by Stephanie this time
A side-by-side remake of the classic scene where the family cheers up baby Michelle by singing The Flintstones theme song
Catchphrases Abound
In episode two, Uncle Jesse & Stephanie share a cool uncle/cool aunt moment. Uncle Jesse's "Have mercy" meets Stephanie's "How rude!"
"Okay, bring it in..." Danny Tanner's catalyst to every group hug, and more group hugs than you can even imagine in every episode
Stephanie tells the entire AT&T Park watching a San Francisco Giants baseball game "How rude!" when they want her to break up with Giants right fielder, Hunter Pence
On the even of Kimmy's remarriage to ex-husband Fernando, she, D.J. and Stephanie drunk dial Michelle in New York, and spend a full minute dropping classic Michelle catchphrases like "No way Jose!" and "You're in big trouble, mister!" as well as the ever-enduring, "You got it dude!"
References To Original Full House Episodes
Stephanie explains how her dad made her move in with big sis D.J. when they were younger, a callback to the pilot, "Our Very First Show."
During the end of the second episode, Uncle Jesse pops by for another cameo. As the Tanner-Fuller family has a classic Full House "lesson at the end of the episode" moment, Jesse comments: "Does anyone else hear violins?"
Danny Tanner hasn't quite let go of his 20-year stardom as host of Wake Up, San Francisco!, even carrying around signed photos of himself from 1991 in his wallet.
Danny plays poker with his grandkids, and thinks he will win with a classic "full house" hand — and Jackson beats him with Aces over Kings — a "fuller house"
Harry Takayama — the boy Stephanie Tanner "married" in "Middle Age Crazy" during Full House season two — shows up for a brief cameo
We get to relieve D.J. and Steve's amazing "I love you" scene from their prom in "Prom Night" when Steve talks about their first kiss
Full House Icons
Mr. Woodchuck, Uncle Joey's puppet, makes a few appearances throughout Fuller House
Speaking of Uncle Joey, his iconic Detroit Red Wings hockey jersey makes an appearance, too
Episode seven reminds us once again, that the Olsen Twins are there with a call out to Mary-Kate and Ashley Olsen's Elizabeth & James' clothing line
Danny Tanner nearly has a stroke when he finds out Cosmo (the latest progeny in the line of Comet) has torn up the classic blue plaid couch that's been the anchor of family meetings for years
Steve Hale shows up in his old high school varsity jacket in an effort to impress his old high school flame, D.J.
What did we miss? What Full House references were your favorite?
The complete first season of Fuller House is available now for streaming on Netflix.