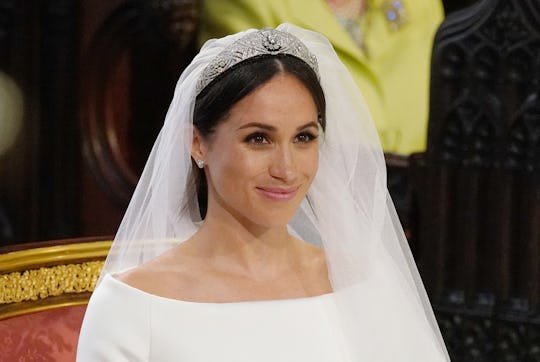 WPA Pool/Getty Images Entertainment/Getty Images
Here Are All Of The Royal Rules Meghan Markle Broke At The Wedding
There was never any doubt that the Duke and Duchess of Sussex's wedding was going to be full of royal tradition and etiquette, just like every other event involving the royal family. But, many also expected that the couple would just as likely choose to do some things their own way — and they ~certainly~ did. In fact, looking at all of the royal rules Meghan Markle broke at the wedding, it seems pretty clear that the couple fully intends on living their married life together on their own terms.
Though the royal wedding may have at first appeared to be similar in many ways to the 2011 wedding of the Duke and Duchess of Cambridge, once it began, the ceremony quickly felt distinctly different — mostly because you could see Markle's influence in almost all of the details. Markle arrived at St. George's Chapel accompanied by her mother, Doria Ragland, and though she opted for a very duchess-like dress — long and elegant, with sleeves, a pronounced train, and a lengthy lace veil — and completed the look with a diamond tiara borrowed from the Queen of the United Kingdom, she entered the chapel alone, and proceeded to walk herself down the first portion of the aisle.
Unlike some royal brides before her, Markle also opted out of having a maid of honor, but instead decided to include the children of her closest friends in her wedding party as bridesmaids and page boys. And while it's not at all unusual for royal bridal parties to consist primarily of children, it is actually quite different that many of the children chosen were those on Markle's side: at Kate Middleton's wedding, for example, all of the bridesmaids were actually connected to Prince William's side of the family, according to Harper's Bazaar.
But the biggest difference in Markle's wedding didn't just set it apart from other royal weddings — it actually largely set it apart from British weddings in general. That was in part due to the remarkable sermon given by American Episcopalian bishop, the Most Reverend Michael Bruce Curry. Curry joined the Dean of Windsor, Rev. David Conner, and the Archbishop of Canterbury, Justin Welby, to officiate the royal wedding, according to CBS News, and, well, let's just say his style was very different than what the royals were likely used to. In his passionate and animated address, Curry addressed the congregation as "brothers and sisters," and quoted Dr. Martin Luther King. And while some of the royals appeared pretty uncomfortable, his words were definitely a big hit on social media.
As if that weren't already enough, there were a number of other notable moments that honored Markle's biracial heritage: during the ceremony, a predominantly black choir sang "Stand By Me," according to TIME, and the ceremony closed with Etta James's "This Little Light of Mine," according to The Telegraph.
In other words? Markle and Prince Harry definitely found a way to shake up their wedding in a way that was actually quite untraditional for the British royal family. And while the day would have certainly still been a big hit, even if they hadn't, those watching along on social media were totally here for it. More than anything though, their wedding seemed to be pretty solid confirmation that the couple intends on putting their own spin on what it means to be a modern, royal couple — and something tells me their wedding was just a preview of what is still to come.