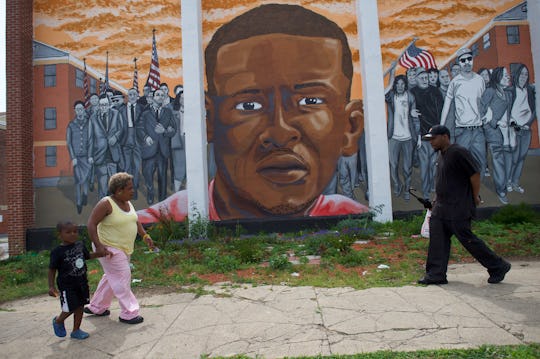 Mark Makela/Getty Images News/Getty Images
All Parents Should Read This One Tweet About The Freddie Gray Verdict
In a shocking outcome to a case that has gripped the nation, a judge ruled on Tuesday that a Baltimore police officer was not guilty of second degree murder in 25-year-old Freddie Gray's death. Gray's case ignited protests around the country last year, after he was found in the back of a police van with a nearly severed spine. He died one week later. As difficult as the outcome of the case is for many people to process, all parents should read one tweet about the Freddie Gray verdict in particular, before the day is up.
Gray's case first gained widespread attention last April following his controversial death while in police custody, which was debated in the media for months. In a high-profile announcement last May, state prosecutor Marylin Mosby announced she was pressing charges against six police officers involved in Gray's arrest. However, three out of the six have so far not been found guilty. The remaining three await trial.
In the case of the driver of the van, Caeser Goodson Jr., the judge ruled that the state had not provided enough evidence to convict him of second degree depraved heart murder and other charges. "The failure to seatbelt may have been a mistake or it may have been bad judgment, but without showing more than has been presented to the court concerning the failure to seatbelt and the surrounding circumstances, the state has failed to meet its burden to show that the actions of the defendant rose above mere civil negligence," Judge Barry Williams told The Baltimore Sun.
To many, the verdict signals the failure of our justice system to protect black men from police brutality. People took to social media to express their outrage at the verdict, with some messages standing out from the rest. "Freddie Gray did not kill himself," Color of Change, an advocacy group that assists black Americans, wrote on Twitter. "That not a single officer is being held responsible for any malfeasance is absolutely preposterous."
In Baltimore, protesters chanted "What's the solution? Revolution!" and "Justice for Freddie Gray.
But there was one tweet that all parents should read about the Freddie Gray verdict, both to themselves and their children. "Never forget Freddie Gray just because justice has," one user, @DCrumedy, wrote. It was a succinct message and did its job of portraying both anger and hope in the same sentence, though it may have been overlooked.
As this tweet points out, Gray can and should live on as an inspiration in the fight against police brutality — a lesson that all parents everywhere can teach their children, with the hope that they'll bring a little justice to the overlooked members of society someday instead.
Gray's death sparked a nation-wide debate on police brutality and helped advance the call to equip police officers with body cameras. Rep. Elijah E. Cummings, who was a prominent player in last year's protests, similarly asked residents this week to use the verdict to inspire change in the city.
"I know that many of our neighbors will be disappointed and frustrated by today's verdict, and I understand those emotions," Cummings said in a statement. "[But] Baltimore's future does not rest on the outcomes of the trials surrounding Mr. Freddie Gray's death. Baltimore's future rests on every one of us."