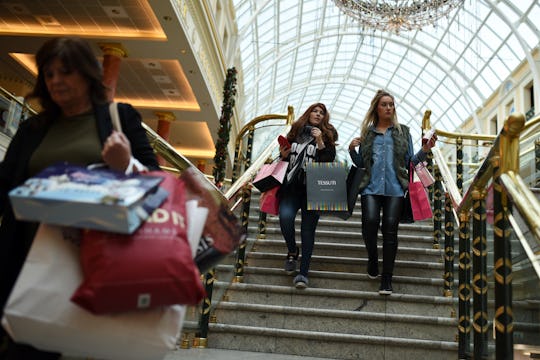 OLI SCARFF/AFP/Getty Images
All The 2016 Black Friday Deals To Help You Plan Your Post-Thanksgiving Spree
With Halloween a distant memory, it's time to start tackling the next order of holiday business. And somewhere in between cranberry sauce and songs about the snow, this means waiting for an assortment of 2016 Black Friday deals to go live. From buy one get one (BOGO) to stackable coupons, practically every store and website will be offering mind-boggling sales. It's enough to make any gift-giving bargain shopper swoon.
Of course, there's the debate of whether or not it's worth the craziness. Black Friday doubles as the night of parking space hunts and long lines. As someone who has both worked and shopped in stores during Black Friday, I think it all comes down to this: play nice and take it easy. Prep yourself with a list so you know what you're looking for. If someone else beats you to something, don't fret –there are so many other stores out there. Plus, at that point, Cyber Monday is right around the corner.
So how does one prepare for the Black Friday insanity? It's all about zeroing in on specific items at specific stores. Have a backup plan in case you can't hunt down a particular toy for your child. Make an effort to do your research, starting with this list of upcoming Black Friday deals.
Whatever you do, stick to your list and take it easy. It's probably not a good idea to run on a stomach full of turkey, anyway.