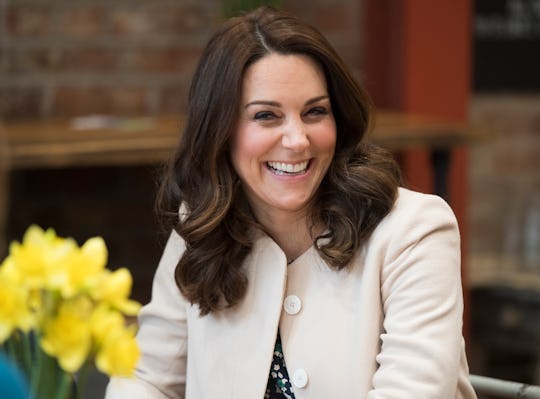 WPA Pool/Getty Images Entertainment/Getty Images
Fans Are *Convinced* Kate Middleton Is Having A Boy, & TBH, The Evidence Is Solid
As Kate Middleton's April due date nears, fans continue to have a lot of questions about her third pregnancy. Of course, one of the most popular inquiries about baby number three is whether it's a boy or a girl. Although the baby's sex has yet to be confirmed, here all the clues that Kate Middleton is having a ... boy. Yep, there are quite a few hints floating around that suggests that Prince William and Princess Charlotte will get a baby brother in just a few short weeks.
Ever since Middleton announced her pregnancy in September, there has been tons of chatter about her third baby's sex. From Middleton's outfits to how she's carrying her bump, people are on a mission to figure out this one detail. And even if you think society places too much emphasis on a child's sex (trust me, you're not alone in this), it's still reasonable to be curious about Middleton and Prince William's expanding family. Middleton and Prince William do make cute kiddos, after all.
But are there any of these supposed clues about the baby's sex valid? Is Middleton really sending fans subliminal messages via her coats? Although these questions don't have answers, here are all the clues that Middleton is having a boy.
The Spicy Foods Theory
Shortly after Middleton's pregnancy was confirmed, an insider dished on Middleton's supposed pregnancy cravings "She's [Middleton] been suffering from nausea and morning sickness again, and she can't stop eating spicy food and candy," the source said, according to Closer Weekly.
So, what does Middleton's rumored obsession with hot foods have to do with her baby's sex? Well, according to some research and old wives' tales, spicy food cravings can signal that person is pregnant with a boy. Of course, there are many people who are doubtful that a love affair with sriracha can predict a baby's sex.
The Royal Christmas Card
In case you missed the royal Christmas card, it was incredibly cute. But adorableness aside, there is something else worth discussing — like the fact that the entire fam is wearing blue in the photo. Coincidence? Some fans think not.
"Another boy to come," one fan predicted on Instagram.
Her Love Affair With Blue
Speaking of blue, it looks like Middleton is a big fan of the color these days. In fact, Middleton has worn blue more than a dozen times since her baby news hit in the internet, according to Good Housekeeping.
Hmm... is Middleton trying to send a message with all of these blue ensembles, or is this theory reaching a bit?
This British TV Presenter Says Boy
I'm not exactly sure why, but this British TV presenter named Ulrika Jonsson decided to weigh in on the baby's sex in March. Apparently, Jonsson thinks Middleton's bump shape screams boy. "I remember my English grandmother talking about how, when the baby is 'out front' as opposed to 'spread evenly', it was a boy," Jonsson told Hello Magazine. It's interesting to note here that Jonsson correctly predicted the sex of Middleton's last baby aka Princess Charlotte.
But as many expecting parents probably already know, you can't predict a baby's sex by how a pregnant person is carrying. So, take this clue with a grain of salt.
She Wants A Boy
Although Middleton claims that she doesn't know the baby's sex yet, she does know what she wants to have. "I'd like to have a boy and William would like a girl," Middleton confessed in March, according to Cafe Mom.
Hmm... it might be possible that Middleton *does* know the baby's sex and she was low-key sending people a hint with this answer. You never know.