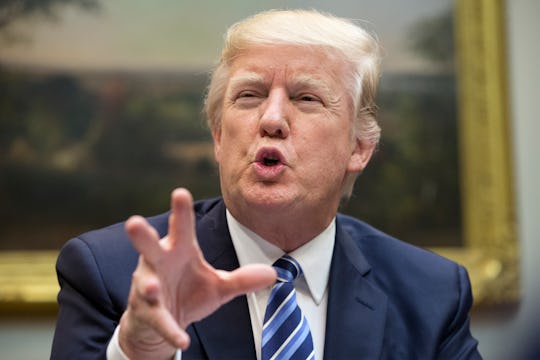 Pool/Getty Images News/Getty Images
All The Trump Jokes At The Correspondents' Dinner
It's President Donald J. Trump's 100th day in office. While some might raise a glass to toast the man, there are hundreds of journalists and celebs gathered at the Washington Hilton Saturday night at the White House Correspondents' Dinner pouring one for their homey formerly known as "democracy." The annual gathering of Capitol Hill journalists and reporters — dubbed as "Nerd Prom" by some — has typically been a place for the media to roast the current administration with pointed, but still playful, ribbing. And then Donald J. Trump happened. As all the Donald Trump jokes at the White House Correspondents' Dinner show, its' never a good idea to take on an industry that buys ink by the barrel or web storage by the terabyte.
Despite the White House Correspondents' Association reportedly asking host Hassan Minhaj not to make fun of President Trump, the 31-year-old senior correspondent on Comedy Central's The Daily Show couldn't resist riffing on the president — especially when the Don decided to skip the White House Correspondents' Dinner, when the president RSVP'ed his regrets through his preferred method of communication, Twitter. Trump instead spent the evening in Harrisburg, Pennsylvania at a post-election rally, for... reasons. Even though the man of the hour wasn't there, jokes about Trump were in abundance.
President Trump even became the subject of some amazing WHCD party swag, crafted by BuzzFeed.
As the event got underway, White House Correspondents' Association president Jeff Mason explained how pool reporting worked and their efforts to establish an archive of White House press pool reports. Mason introduced WHCA vice president Margaret Talef to give a pool report about Trump's rally in Harrisburg Saturday night. While outlining the basics of Trump's rally, Talef continued:
One day, maybe five years from now, maybe 50 years from now, when somebody wants to go back and figure out what President Trump was doing on his first 100 days in office — and what they served for the meal on Air Force One — and who was with him on the plane... they will go back and read Mark Landler's pool report...
Talef's dig, while pretty tame, was in direct response to Trump's bizarre fixation with the chocolate cake he was eating the moment he was informed the United States had just launched missiles at a Syrian air base. Not exactly the devastating roast some would have hoped for, but it was still pretty early in the night.
Once Comedy Central's Hasan Minhaj took the WHCD podium however, things definitely heated up substantially. Minhaj wasted no time getting right into the Trump Russia scandal.
Then Minhaj went right for the jugular, calling Trump out for the obvious reason he wouldn't attend the White House Correspondents' Dinner.
There were some obvious low-hanging fruit that Minhaj just couldn't help but call out, either, such as Trump's tan. Minhaj didn't make any Cheetos references though, surprisingly.
Of course, Donald Trump wasn't the only Don Minhaj invoked for the evening.
Minhaj also spoke at length about Trump's propensity for late night tweets.
You know Donald Trump doesn't drink right? Which is oddly respectable. But think about that: That means every statement, every interview, every tweet: Completely sober. How is that possible? He tweets at 3 a.m. sober. Who is tweeting at 3 a.m. sober?!
And then of course, the zinger: "Donald Trump because it's 10 a.m. in Russia. Those are business hours."
Minhaj also talked about the president's penchant for golfing — and why that's not necessarily a bad thing.
Speaking to Trump's stance on threats to the American people, Minhaj remarked where the press fell into that list of security priorities: Somewhere between ISIS and "normal length ties."
Minhaj also didn't hold back at all calling Trump out for his consistent lying, calling President Trump the "Liar in Chief."
After lengthy — and at times, necessary — critique of the media itself, Minhaj finally rounded out his set roasting Trump with a prediction for how Trump might respond to the White House Correspondents' Dinner:
When all was said and done, the 2017 White House Correspondents' Dinner was a weird one. And with all the jokes about Trump — even while hit or miss — they still hit almost a little too close to home as they each held their own sobering truths.