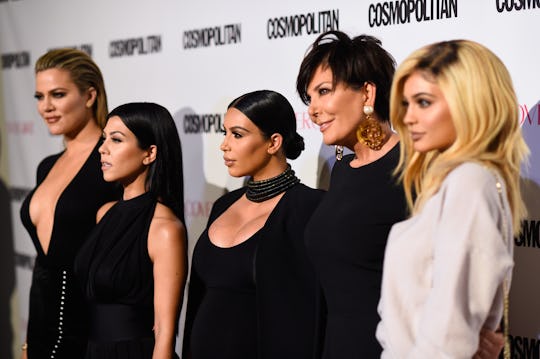 Frazer Harrison/Getty Images Entertainment/Getty Images
Here Are All The Kardashian Christmas Cards Over The Years
While the KarJenner crew didn't share a Christmas card with us last year, they were spotted doing a photo shoot for their 2017 Christmas card at Milk Studios in Los Angeles back in November, E! reported. Since then, Kim wrote on her app that this year's theme is 25 days of Christmas — and she's been dishing out one photo every day like an advent calendar. While they haven't pulled anything like this before, all the KarJenner Christmas cards over the years have been big.
Kris Jenner explained to Glamour last year each crazy Christmas card and reminisced about why they took the photos they took and whose decisions some of the questionable props and outfits were.
Now, the soon-to-be mother of three, Kim, has been teasing this years family's Christmas card on Snapchat and Twitter, according to Elle. And the card reveal outdid itself again on Day 20 by putting the focus on Mary Jo "M.J." Houghton — Kris Jenner's mother — who is surrounded by her daughter, Kris, granddaughters Khloé and Kim, and great-grandchildren, Dream Renée and Saint. People reported that the snap expresses the obvious pride on Houghton's face, since the photo is cropped to center around her. The others have only partially made the pic.
In fact, speaking of making the pic, one thing remains obvious: Kylie Jenner hasn't yet made an appearance — and much to fans' frustration. Followers are theorizing that she'll finally show fans a baby bump on Christmas day. They wonder if the Christmas card series will ultimately reveal the truth behind Kylie's pregnancy rumors, Us Weekly reported.
Editor's Note: The Instagram post has since been deleted.
Meanwhile, Khloé is also rumored to be pregnant but may have covered up her alleged baby bump with her niece, Dream, in the Day 19 photo, according to Us Weekly. And, because the photos were reportedly taken in November, she very well might not have been showing yet anyway.
So, suddenly, the holiday season means endless reruns of all the popular holiday movies from Elf to Home Alone to A Christmas Story... and the day-by-day release of the KarJenner family's highly anticipated Christmas card that'll hopefully culminate in some big pregnancy reveal. But while the curiosity slowly kills us all, let's take a look at this timeline of the last 10 years of Kardashian Christmas cards.
2015: Kim Kardashian and Kourtney Kardashians' kids were the stars.
2013: The family went with a carnival-inspired set with sparkling gold money signs and mannequins.
2012: The family featured Penelope for the first time. All of them dressed up in white, and raised their champagne flutes in the air filled with confetti.
2011: The KarJen clan sent out a 3D version of the card that featured the men in the family donning black suits and ties and them women wearing... well, also black suits and ties — except for Kris in sequins, Kendall in a gown and Kourtney in a skirt.
2010: Kim wore a white Emilio Pucci dress while everyone else wore dark colors in a dramatic photo on a spiral staircase.
2009: Kourtney is pregnant and Ryan Seacrest is thrown into the mix.
2008: This card came out just one year after Keeping Up with the Kardashians, and the women all wore red.
2007: They all blew kisses to the camera for the Christmas card that apparently came with a message, according to E! "Life is not measured by how many breaths we take, but by the moments that take our breath away"
Over the years, hair colors have changed, exes have been booted, babies have been added and, ultimately, they've all grown up a lot. Of course, there are plenty more family photos in the future.