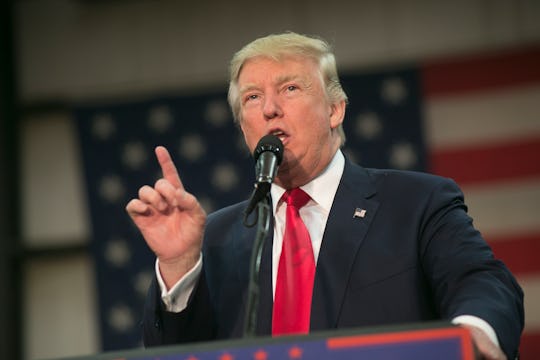 Maddie McGarvey/Getty Images News/Getty Images
All The Names Of Women Who Say Donald Trump Sexually Assaulted Or Harassed Them
By now, nearly everyone following the United States' election cycle has heard of the sexual and harassment assault allegations against Republican candidate Donald Trump. On Thursday, a former Miss Finland winner became the 12th woman to accuse the presidential nominee of assault, according to The Telegraph. If the allegations are now getting a bit numerous to keep track of, don't worry — I've compiled a list with all the names of women Trump allegedly sexually assaulted or harassed.
It's important to remember that Trump has repeatedly denied these allegations. "These vicious claims about me of inappropriate conduct with women are totally and absolutely false," he said during a rally in Florida in October, according to NBC. "These claims are all fabricated. They're all fiction and they're outright lies. These events never ever, ever happened." Trump's campaign has not responded to Romper's requests for comment regarding any of the allegations. Trump hasn't been charged with any crime.
Trump has claimed that he will bring a lawsuit against The New York Times for reporting the stories of women who alleged he assaulted them. He also said that the sexual assault claims were politically motivated, according to a transcript published by NPR. "They knew they would stop at nothing to try to stop me," he said, after speaking against Democratic candidate Hillary Clinton and President Obama's policies. "But I never knew as bad as it would be. I never knew it would be this vile, that it would be this bad, that it would be this vicious."
But if you'd like to delve deeper for yourself, here are the women speaking out against Trump:
Ivana Trump
According to the Daily Beast, when Trump and Ivana split ways in 1992, Ivana told a deposition that Trump had raped her while they were still married. When a book that mentioned her claims was set to be published (Lost Tycoon: The Many Lives of Donald Trump, for those wondering), Trump provided a statement from Ivana to be printed on the front page of the book. In it, Ivana said:
[O]n one occasion during 1989, Mr. Trump and I had marital relations in which he behaved very differently toward me than he had during our marriage. As a woman, I felt violated, as the love and tenderness, which he normally exhibited towards me, was absent. I referred to this as a 'rape,' but I do not want my words to be interpreted in a literal or criminal sense.
In July 2015, Ivana told CNN that the Daily Beast story about her comments in 1989 was "totally without merit."
Jill Harth
In 2016, The Boston Globe reported on a lawsuit that Jill Harth — who worked with Trump to put on a calendar girl competition — brought against him for $125 million in 1997. During a deposition, she accused Trump of groping her under a dinner table, then of kissing, fondling, and restraining her in his daughter Ivanka's bedroom.
Harth eventually dropped the charges against Trump as a condition of him settling a different suit her company had made. However, Harth told The Boston Globe in April: "I stand by everything written in the complaint or I would not have signed it."
Temple Taggart McDowell
According to CNN, former Miss USA contestant Temple Taggart came forward with allegations against Trump in May. Taggart accused Trump of kissing her on the lips twice without consent: once at a 1997 Miss USA rehearsal and once at the Trump Tower.
On Saturday, Trump threatened to sue all of the women who had accused him of assault. The following Friday, Taggart basically said bring it on. "Enough is enough," she said, according to Fox 13. "I feel that he is trying to bully and frighten us into silence. Mr. Trump, that is not going to work with me. ... If you carry out your threat to sue me, I will defend myself."
Jane Doe
In June, an anonymous woman brought a federal lawsuit against Trump for allegedly raping her at a party in 1994, when she was just 13 years old and trying to kickstart her modeling career. According to BuzzFeed, there are two witnesses supporting Jane Doe's case. The first hearing is scheduled for Dec. 16.
Cassandra Searles
In June, former Miss Washington Cassandra Searles captioned a Facebook photo of the 2013 group of Miss USA contestants with a little story:
Do y'all remember that one time we had to do our onstage introductions, but this one guy treated us like cattle and made us do it again because we didn't look him in the eyes? Do you also remember when he then proceeded to have us lined up so he could get a closer look at his property? Oh I forgot to mention that guy will be in the running to become the next President of the United States.
In the comments, she added: "He probably doesn't want me telling the story about that time he continually grabbed my ass and invited me to his hotel room."
Natasha Stoynoff
On Oct. 12, former People reporter Natasha Stoynoff published an account of her own time spent with Trump. In 2005, when Stoynoff interviewed Trump and his wife Melania at their Mar-a-Lago estate, she alleges Trump took her on a tour of the property, then pinned her to a wall and kissed her against her will. "Donald Trump forced himself on me," Stoynoff wrote for People. "I tried to make myself believe it was no big deal. Only, it was."
Jennifer Murphy
Jennifer Murphy, who starred on season four of The Apprentice, said — also on Oct. 12 — that Trump kissed her on the mouth without consent after offering her jobs. Murphy said she would be voting for him regardless.
Mindy McGillivray
A third accusation took place on Oct. 12: Mindy McGillivray accused Trump of groping her butt without consent at a Ray Charles concert on Trump's Mar-a-Lago estate in 2003. Soon after coming forward, she told the Palm Beach Post she was leaving the country out of fear of repercussions from Trump supporters.
Jessica Leeds
One of the two women mentioned in a New York Times article that led Trump to threaten to sue the paper, businesswoman Jessica Leeds claimed on Oct. 12 that Trump groped her when she sat next to him on a flight to New York. "He was like an octopus," she told The New York Times. "His hands were everywhere."
Leeds, who was sitting in first class, reportedly vacated her seat to go sit in the back of the plane and avoid the hotel mogul.
Rachel Crooks
A receptionist in Manhattan's Trump Tower at the time of the alleged incident in 2005, Rachel Crooks claimed Trump kissed her cheeks, then her mouth. "I was so upset that he thought I was so insignificant that he could do that," she told The New York Times. Crooks was the second woman featured in the New York Times story on Oct. 12.
Kristin Anderson
On Oct. 14, Kristin Anderson told The Washington Post that in the 1990s, when she was living in New York and trying to start her modeling career, she unknowingly ended up at the same nightclub as Trump one night. Sitting next to her, Trump allegedly slid his hand under her skirt and touched her inappropriately through her underwear.
Summer Zervos
Also on Oct. 14, a previous The Apprentice contestant claimed that Trump kissed her without consent on the mouth and groped her breasts on two separate occasions in 2007, according to The Guardian.
Cathy Heller
On Oct. 15, according to The Guardian, Cathy Heller alleged that Trump forcefully tried to kiss her at a Mother's Day brunch at Mar-a-Lago in 1997, and that he was angry when she refused.
Karena Virginia
On Oct. 20, yoga instructor Karena Virginia claimed that as she was leaving the U.S. Open in 1998, Trump allegedly grabbed her arm and brushed against her breast, according to the Daily Beast. Addressing Trump directly, Virginia said at a press conference, "Your random moment of sexual pleasure came at my expense and affected me greatly."
Jessica Drake
On Oct. 22, adult film actress Jessica Drake claimed Trump hugged her and kissed her without consent, then offered her $10,000 to try and persuade her to join him for dinner or come to his room. "This is not acceptable behavior for anyone, much less a candidate for president," Drake said at a press conference, according to People. Drake said the alleged events took place at a golf tournament in 2006.
Ninni Laaksonen
Finally, on Thursday, former Miss Finland Ninni Laaksonen accused Trump of groping her in 2006, before the two of them were set to appear on The Late Show with David Letterman. Trump allegedly groped Laaksonen's butt while they were being photographed in a group shot, according to The International Business Times.
With any luck, there will be no need to add more names to the list of women alleging Trump assaulted them — before or after the election.