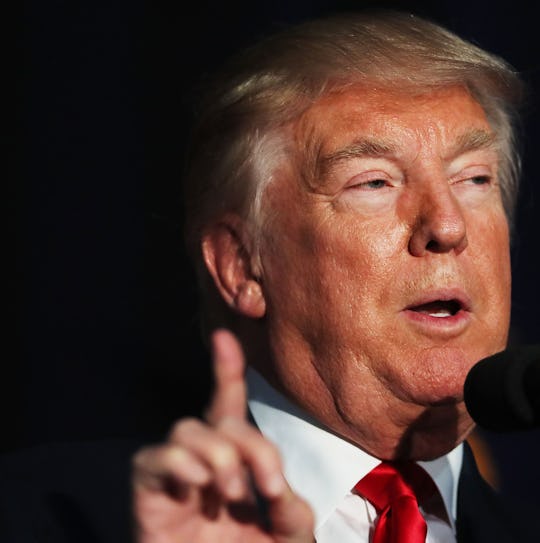 Spencer Platt/Getty Images News/Getty Images
All The Things Donald Trump Has Said About Mothers Don't Make Him Look Great
Another day, another questionable comment made by Republican nominee Donald Trump: On Friday, the real estate mogul lashed out against former Miss Universe Alicia Machado, calling the actress and mother "disgusting" and "a con." While Trump's latest comments are both sexist and inexcusable, they are — unfortunately — far from surprising. Trump has a long history of making rather poorly-chosen comments about women, and no one remains untouched — not even mothers. In order to illustrate just how unsurprising Trump's Machado comments should be, I've rounded up a list of things Donald Trump had said about mothers.
Before diving in, however, it should be noted that Trump has defended his comments about women in the past. When he faced backlash for saying journalist Megyn Kelly had "blood coming out of her wherever" after she questioned him during a primary debate, he said he would never imply that Kelly had her period. "I cherish women," Trump said, according to The Washington Post. "I want to help women. I'm going to be able to do things for women that no other candidate would be able to do, and it's very important to me."
However, on other occasions, Trump has also said a few dubious things about women — and, in particular, about mothers.
That Time He Fat-Shamed A Pregnant Kim Kardashian
During a Showbiz Tonight interview in 2013, Trump turned an interview question about Kardashian's baby shower into a conversation about the reality star's body. "She's gotten a little bit large," he said, according to Glamour. "I would say this: I don't think you should dress like you're 120 pounds."
Because yes, a woman's body — pregnant or otherwise — is totally your business to remark on, Trump.
When He Called A Breastfeeding Lawyer "Disgusting"
When an attorney in a deposition against Trump requested a break to pump breast milk, she allegedly got quite the reaction from the real estate mogul. "He got up, his face got red, he shook his finger at me and he screamed, 'You're disgusting, you're disgusting,' and he ran out of there," lawyer Elizabeth Beck told CNN last year.
What did Trump have to say for himself? His lawyer, Allen Garten, told CNN:
She was disgusting. She was attempting to breast feed — to pump in the middle of a deposition, in a deposition room with five lawyers and was not excusing herself.
Ah, "disgusting." What a lovely word to use to describe feeding infants.
He Once Called Pregnancy An "Inconvenience"
In a 2004 interview, Trump said pregnancy was "a wonderful thing for the woman, it's a wonderful thing for the husband, it's certainly an inconvenience for a business. And whether people want to say that or not, the fact is it is an inconvenience for a person that is running a business."
When asked if a pregnant employee of his was worried that she'd be replaced while on maternity leave, Trump responded: "Maybe she should feel that way a little bit."
No pressure or anything.
He's Also Got Interesting Views On Paid Maternity Leave
More recently, Trump insinuated to Fox News that paid family leave could be bad for business. "Well it's something that's being discussed," he said, according to Fusion, when asked about paid family leave. "I think we have to keep our country very competitive, so you have to be careful of it."
Trump Believes Child Care Is A Woman's Job
According to Buzzfeed, Trump said in an interview on The Opie and Anthony Show in 2005:
There's a lot of women out there that demand that the husband act like the wife and you know there's a lot of husbands that listen to that. So you know, they go for it. If I had [a] different type of wife, I probably wouldn't have a baby, ya know, 'cause that's not my thing. I'm really, like, a great father, but certain things you do and certain things you don't. It's just not for me.
That same year, during an interview with Howard Stern, Trump built on that, saying: "I mean, I won't do anything to take care of them. I'll supply funds and she'll take care of the kids. It's not like I'm gonna be walking the kids down Central Park."
I guess that explains why Trump's family leave policy excludes fathers.
That Time He Talked About Hiring Working Mothers
According to Time, MSNBC MSNBC Morning Joe co-host Mika Brzezinski quoted Donald Trump in her book, Knowing Your Value: Women, Money, and Getting What You're Worth, in 2010. When asked about hiring working mothers, Trump reportedly said:
She's not giving me 100 percent. She's giving me 84 percent, and 16 percent is going towards taking care of children.
It's a view that lines up nicely with Trump's maternity leave policies and view of women as primary or sole caretakers. Trump may "cherish women," but he's got a long way to go when it comes to treating them equally.