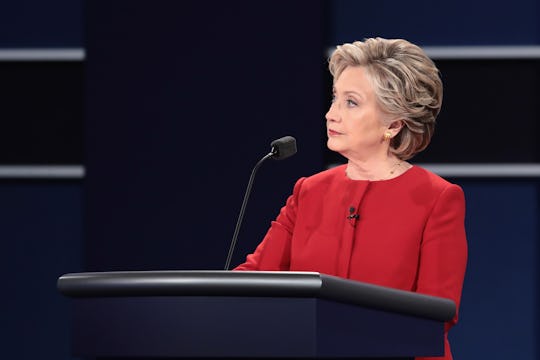 Drew Angerer/Getty Images News/Getty Images
All The Times Hillary Clinton Threw Shade At Donald Trump During The Presidential Debate
Within the first few minutes of a scheduled 90 minute presidential debate, Hillary Clinton threw shade at Donald Trump and ripped into the Republican nominee; taking many of the controversial comments or plans he's put forth throughout this election head-on. Indeed, it was an epic face-off Monday night during the first of three presidential debates, and neither candidate pulled any punches. However, the Democratic nominee repeatedly sought to correct Trump's statements and asked viewers at home to fact check the billionaire's remarks. "I know you live in your own reality," Clinton told Trump on stage at the debate.
The highly anticipated debut debate absolutely lived up to its expectation, whether the candidates were speaking about the economy, tax breaks for the wealthy, or action plans to combat ISIS. The debate was reportedly expected to attract worldwide interest and a nearly 100 million viewer television audience. So, all of the extraordinary drama that quickly unfolded and all the moments the Democratic nominee threw some sharp and poignant jabs at her rival on stage, certainly did not go unnoticed.
It was very clear that Clinton was well-prepared for Monday's debate. She had many impressive things to say as she faced Trump in the presidential debate, even though Trump claimed Clinton was being "mean" and "unfair" and "not nice."
Here are some of the best quotes from when Clinton, the first woman to ever debate in a presidential election, who threw some much deserved shade at the GOP nominee:
"Oh Donald I know you live in your own reality, but that is not the facts…"
"I hope the fact checkers are turning up the volume and really working hard."
"You've gotta ask yourself, why won't he release his tax returns? First, maybe he's not as rich as he says he is. Second, maybe he's not as charitable as he claims to be. … It must be something terrible he's trying to hide… I think the question is, were he ever to get near the White House, what would be those conflicts? Who does he owe money to? Well he owes you the answers to that."
"A man who can be provoked by a tweet should not have his fingers anywhere near the nuclear codes."
"As soon as he travels to 112 countries and negotiates a peace deal, a cease fire… Or even spends 11 hours testifying in front of a congressional committee, he can talk to me about stamina."
"He tried to switch from looks to stamina… But this is a man who has called women pigs, slobs and dogs. Someone who has said pregnancy is an inconvenience to employers, women don't deserve equal pay unless they do as good a job as men… "
"Your campaign manager said you built a lot of businesses on the backs of little guys… I have met a lot of the people who were stiffed by you and your businesses, Donald… I can only say that I'm relieved my late father never did business for you…"
Just as the stakes were incredibly high for both candidates on Monday night, Clinton's hours upon hours of debate preparation and exuding confidence won her some serious praise on social media.