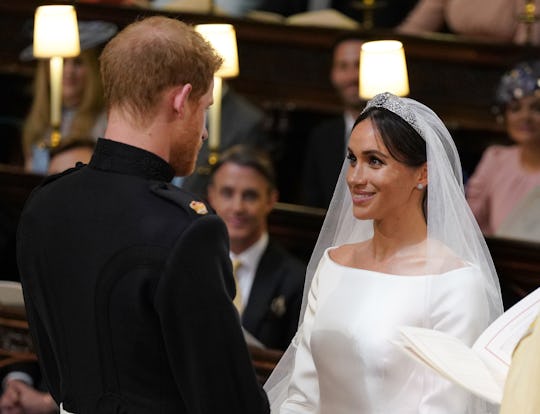 WPA Pool/Getty Images Entertainment/Getty Images
Here Are All The Times Meghan Markle Broke "Royal Rules" During The Royal Wedding
During the much-too-early-hours of Saturday, May 19, millions of viewers over here in the U.S. tuned into the British royal wedding of Prince Harry and former American actress Meghan Markle. It was basically like Christmas for fans of the royal family. From the music, to the celebrity guests, the bride's dress, commentary about royal traditions, every little detail of the grand affair was put under a microscope. However, casual viewers of the royal wedding might not have picked up on the subtle balks of tradition by the bride and groom. With this in mind, let's take a look at all the times Meghan Markle broke "royal rules" during the royal wedding.
One thing I'd like to point out is Prince Harry is currently sixth in line to the royal throne — after Prince Charles, Prince William, Prince George, Princess Charlotte, and Prince Louis — The Sun reported. So I'm guessing he and Markle were afforded a little more leeway when it came to adhering to certain royal wedding traditions. (At least when compared to his brother, Prince William, who is second in line to the throne.) Don't get me wrong, plenty of traditions went off without a hitch on Saturday — like the dress and the carriage ride, for example. But here are the ways the newly-married Duke and Duchess of Sussex broke with the royal rules.
Meghan Walked Herself Partway Down The Aisle
As CNN reported, Meghan made a "striking feminist statement" by walking solo partway down the aisle in St George's Chapel. She was accompanied for the first part by her bridesmaids and page boys, while a senior church figure led them in. Her soon-to-be father-in-law, Prince Charles then joined her once she reached the Quire, and he walked Markle to the foot of the altar. Finally, Prince Charles stood back as the bride approached Prince Harry. This was apparently the plan all along — aside from the fact that her father, Thomas Markle, was originally supposed to carry out Prince Charles' role — CNN reported.
Meghan & Harry Opted For Two Wedding Bands
This might not seem like a big deal, but royal men typically don't wear wedding bands, Fashion Magazine reported. (Who knew?) For three generations, in fact (Harry's grandfather, father, and brother), no male royal has opted to wear a ring after marriage. However, Prince Harry and Markle did exchange rings during their wedding ceremony — signifying equality in their marriage. As it should be.
They Shunned The Fruitcake
Queen Victoria and Prince Albert may have served traditional fruitcake at their wedding, Fashion Magazine reported — as well as Queen Elizabeth and Prince Phillip, and Prince William and Kate Middleton. "A fruitcake was originally a symbol of wealth and prosperity because of its precious ingredients such as dried fruits, alcohol, and spices," Chris Dodd, a pastry chef at Dalloway Terrace in London, told Vogue. "Furthermore, the cake, in a way, represented the vastness of the British empire, using ingredients from far-flung corners of the globe." But as Kensington Palace revealed on Instagram, Prince Harry and Markle's wedding cake was definitely not fruitcake. Instead, it was a lemon elderflower cake with buttercream. Fashion Magazine reported.
They Skipped The Organ For Their Wedding Music
Fun fact: An organ is traditionally played during royal weddings, Marie Clare reported. On Saturday, however, cellist Sheku Kanneh-Mason had the honors. And he did a phenomenal job, if you ask me.
Markle Will Be Giving A Toast
Fashion Magazine reported that Meghan Markle would be giving a speech at her wedding reception. This is an honor typically reserved for the groom, the best man, and the father of the bride. (Not to mention it's pretty uncommon as far as royal weddings are concerned.) However, The Sunday Times reported Markle would, in fact, be paying tribute to her new husband, as well as thanking the queen for hosting the celebration. You go, girl! Smash the patriarchy.
Their Wedding Date Was On The Weekend
As Marie Claire reported, royal weddings are traditionally held on weekdays, and then that day is declared a national bank holiday. However, Prince Harry and Meghan Markle's nuptials went down on a Saturday. Kate Middleton and Prince William exchanged vows on April 29, 2011 — a Friday. But hey, at least British citizens got an extra day off work for Prince William's nuptials.
An American Bishop Gave Their Wedding Sermon
Vanity Fair reported that Bishop Michael Curry became the first American bishop to give the sermon at a British royal wedding on May 19. Again, this isn't necessarily a jaw-dropping break with traditional, but it's definitely one worth noting.
Harry Watched Meghan Walk All The Way Down The Aisle
Although here in the U.S. grooms typically watch their brides walk down the aisle, at British weddings, it's actually customary for the groom and best man to face the altar while the bride walks down, Marie Claire reported. Prince William stuck with tradition during his 2011 marriage to Kate Middleton (although he did sneak a glance.) But Prince Harry watched Markle walk the whole way — and it was simply beautiful.
So there you have it. Each of these details may seem small, but when you add them all together, they send a clear message: Prince Harry and Meghan Markle are doing things their own way. (While still remaining respectful, of course.) And to be honest, I'm loving the direction they've taken so far.