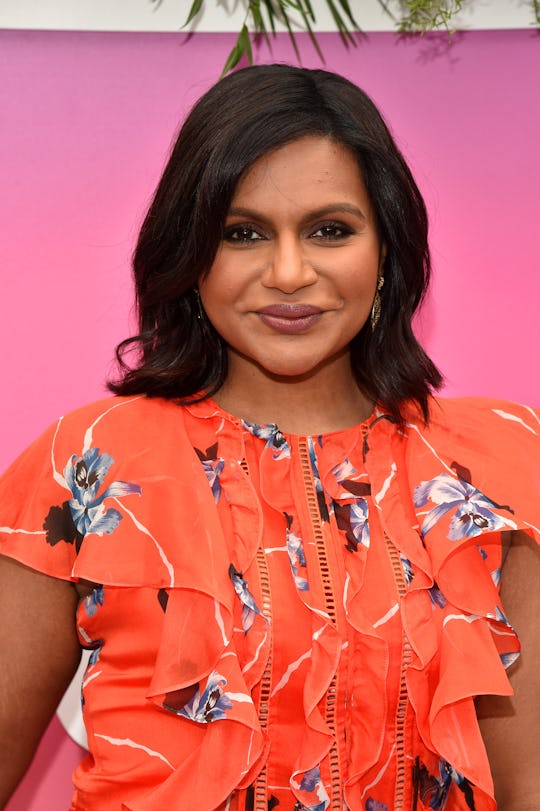 Bryan Bedder/Getty Images Entertainment/Getty Images
All The Times Mindy Kaling Opened Up About Her First Pregnancy
Although everyone's favorite Mindy Project star hasn't revealed everything about her pregnancy with her first child, she has shared a few, rather telling tidbits about this next chapter of her life. In fact, all the times Mindy Kaling has opened up about her pregnancy have one thing in common: she's definitely going to be a "cool mom." She might joke about it, but Kaling's remarks on expecting her first child have all been super relatable and totally honest.
Since her pregnancy was first announced in July (by none other than Oprah Winfrey!), Kaling has only talked about her baby-to-be a number of times. But each and every time she's opened up, the 38-year-old has made it clear that she's not only ready to handle motherhood, but that she's completely OK with how her body is changing. While the actress may be purposefully keeping mum about who the father of the baby is, she hasn't shied away from sharing other details about her pregnancy, including the sex of the baby, her anxiety of her impending parenthood, and much more.
Now at eight months pregnant, the former star on The Office has been plenty busy with a plethora of work projects that'll undoubtedly keep her fans laughing. And, thankfully, she's still found time to keep her eager fans in the loop about this exciting time in her life.
When She Said How She Really Felt
In an exclusive sit-down interview with Willie Geist for Sunday Today, Kaling revealed that even though it didn't necessarily seem like it, she was actually pretty nervous about being pregnant. She told Geist:
Right now, I just feel so anxious. But I'd like to be the fun mom. I know I'm gonna be the dorky mom. So it could be kind of fun, too. I think that would be nice.
Becoming a mother would make any woman anxious and excited at the same time. And it's always refreshing to hear that a celeb like Kaling is going through the same thing.
When She Got Real About Wanting To Know The Sex Of The Baby
While appearing on The Ellen DeGeneres Show after her pregnancy was confirmed, Kaling got real about not wanting to wait to find out one specific detail about her baby.
"I'm not waiting," she told DeGeneres. "I'm having a girl."
She Was Even Pretty Chill That Oprah Spilled Her Pregnancy Beans
Back in July, Kaling and Winfrey were attending the Disney D23 expo, when Kaling told Oprah she was pregnant. Soon after, Winfrey confirmed the news to the press before Kaling got a chance. But Kaling wasn't too upset about it (I mean, c',mon — it's Oprah!). According to People, while speaking to DeGeneres on her show, Kaling said:
I had told Oprah and Reese [Witherspoon] on a movie we're working on, A Wrinkle in Time, and she announced it at press — she was very excited ... If anyone is going to announce big news about your private life, Oprah Winfrey is the person. You can't complain that much about it. And you also can't be like, "Hey, Oprah, zip it" — because she's almost like a religious figure. So if there's one person I have to tell my daughter about that revealed her existence to the world, Oprah is pretty good.
She's Taking Some Mothering Cues From A Pretty Great Role Model
In her Today interview with Geist, Kaling spoke about her own mother and what an inspiration she has been. Unfortunately, Kaling's mother died in 2012 of pancreatic cancer. But now, the mom-to-be has someone to admire and look up to as she prepares to welcome her own daughter into the world, telling Geist:
My mom was incredibly fierce and so devoted to us, just loved us and really wanted us to be happy no matter what we did. My career choice was not something that she was familiar with and she was just so supportive of that. And if I could give that to my child, just that open-mindedness, I'd be so happy.
Truly, Kaling is going to be a great mother and that kid is pretty dang lucky to have a mom like her. And hopefully when that day comes, she'll be willing to keep her fans up to date on how she's adjusting to motherhood and all the antics her little one will get herself into.
Check out Romper's new video series, Romper's Doula Diaries:
Watch full episodes of Romper's Doula Diaries on Facebook Watch.