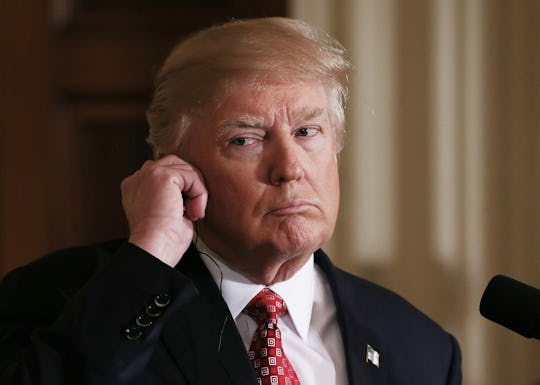 Mario Tama/Getty Images News/Getty Images
The Grammys Could Resist A Few Trump Jokes
These days, it seems like all anybody can talk about it Donald Trump, our president. Yes, this is real life. And the Grammys were no different. Here are all the Trump jokes during the 2017 Grammys, because no one can actually talk about anything else these days it seems. At the Golden Globes, for example, the night began with lots of Trump jokes, and even ended with a beautiful speech by Meryl Streep about why it's so important to stay politically engaged, support the arts, and support diversity and inclusion in this day and age. Trump predictably held his breath, stomped his feet, and petulantly called Streep "overrated" over Twitter. But that has hardly stopped anyone from making jokes at his expense at the Grammys.
The first came in the form of a "Make America Great Again" dress worn by Joy Villa. She insisted the dress was about love, but it's a little unclear whether or not she was trying to be ironic not. James Cordon, who hosted the event, ended his opening monologue/rap with the phrase, "President Trump, we don't know what comes next," to which the world in general laugh/cried for about a year. Cordon was a little light on the Trump jokes, until the short segment that showed tweets about the show on screen, many of which called Cordon the worst host in history. "Any negative tweets that you see are fake tweets!" he exclaimed, an obvious call out to Trump, who has called anything negative reported on him "fake news" or "fake polls."
To be honest, at this point, making fun of Trump is kind of easy pickings. It's hard for all of us to believe that he's actually president because of everything he's done, not just during the election campaign, but ever since he became president. If you don't look too hard at how terrifying it all is, it's kind of funny. How can you not make fun of Trump? I mean, if we didn't laugh, we'd cry.
All things considered, the Grammys this year were pretty light on Trump jokes. Cordon got a few zingers in, it's true, but they were not as powerful as, for example, Katy Perry's performance. She wore an arm-band that read "Persist" and finished by standing in front of a giant image of the constitution. The message is pretty clear. This is real life, and we should start taking it seriously and taking action.