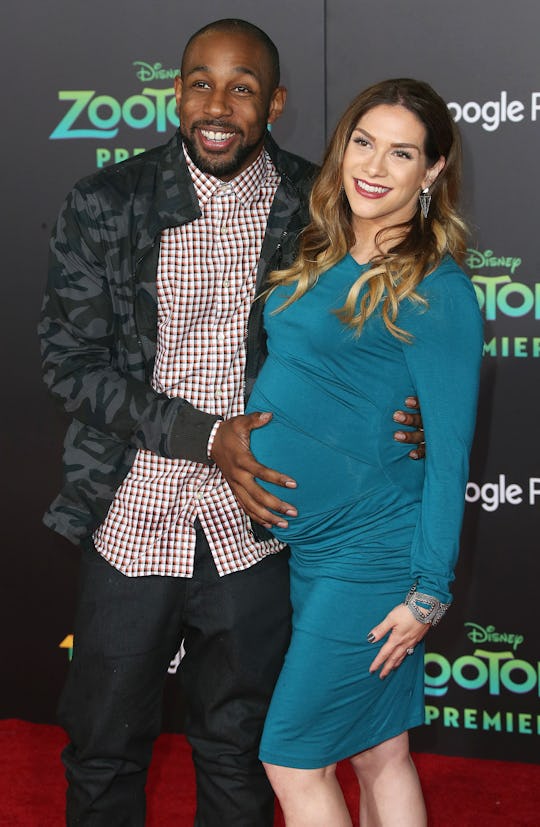 Frederick M. Brown/Getty Images Entertainment/Getty Images
Allison Holker Shares The First Photo Of Her Son, Maddox, & He's Beautiful
Dancing With The Stars pro Allison Holker shared the first photo of her son, Maddox Laurel Boss, on Instagram Tuesday, and he is seriously beautiful. Holker and her husband, So You Think You Can Dance alum Stephen "tWitch" Boss welcomed their first child together on Easter Sunday, according to Us Weekly, after publicly announcing her pregnancy back in October during an episode of Dancing With The Stars, according to E! News (Holker was singer Andy Grammer's dancing partner). Maddox is Holker's second child: she also has a daughter, 7-year-old Weslie, from a previous relationship.
Holker wrote a lengthy caption to accompany her son's photo, writing that Maddox "has already stolen my heart," and "he is and will always be my precious boy." The new mom of two continued,
To Maddox: I promise to love you forever, i will lead, I will teach, i will be strong, I will listen, I will be an example. I will be a shoulder to cry on when u need it, I will have a bandaid ready for when u fall, i will walk you into your first day of school and help u study for ur first test , I won't help teach u to drive ( leave that to dad, the one that is a good driver) but I will help u pin on ur first prom boutonnière. I will be there for it all and you every step of the way . I AM your mother and that is unconditional and everlasting! I LOVE YOU MADDOX and welcome to our family.
According to the Daily Mail, Holker and Boss first met in 2010 as all-stars on So You Think You Can Dance and married in 2013. In a statement following Maddox's birth, Holker and Boss said,
[Maddox's birth] was truly an unforgettable moment and we are grateful to everyone that shared in the experience and made it so monumental. Our family feels full!
And despite the couple's obvious love for him, it sounds like Maddox's biggest fan might actually be his big sister:
Maddox already has the best big sister Weslie, they have already bonded and share a truly beautiful love.
Congratulations to the new family of four.