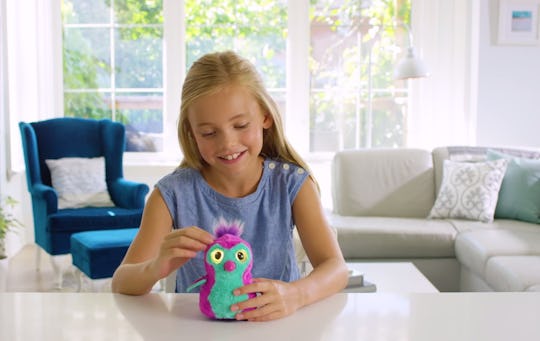 Alternatives To Hatchimals If They're Sold Out, Because Finding One Isn't Easy
Every holiday season, there's one toy that is so explosively popular, parents must search high and low. My mom searched for a Cabbage Patch Kid for my sister, and quickly realized the toy stores had a healthy selection of the line's black dolls (that's a topic for a different article). The release of Tickle Me Elmo was one of the most famous examples of the frenzy that parents create in order to get their child the season's hottest toy. Now, there's a new toy that is sold out almost everywhere: Hatchimals, from toy-maker Spin Master. For those who have looked everywhere (or don't want to have to cut Thanksgiving dinner short in order to fight over the two dolls your local toy store may get in stock for Black Friday), here are some alternatives to Hatchimals if they're sold out.
Hatchimals are a really fun, interactive toy. They hatch from an egg and your child won't know what they're getting — and that element of surprise is a huge part of why it's fun. Once the Hatchimal hatches, your child can "raise" the the toy by teaching it things like how to talk and when to eat and sleep. The Hatchimal has three life stages: baby, toddler, and child.
This message on the Hatchimals' website explains why the toy is so hard to find:
The consumer response to Hatchimals has been extraordinary, exceeding all expectations. Some of our first shipments have already sold out. While additional product will hit retail shelves in November, we anticipate this inventory will also sell out quickly. We have increased production and a whole new batch of Hatchimals will be ready to hatch in early 2017...In the interim, some retailers are developing pre-sale and/or rain-check programs for redemption in January.
The rain-checks aren't helpful to parents who want to give a Hatchimal to their child for Christmas.
Several toy enthusiasts and bloggers have described Hatchimals as a cross between Tamagotchi and Furby. So if you can't have a Hatchimal under the tree, having a Furby is your best bet.
Amazon has the Furby Connect in pink and teal for $68.18. Like the Hatchimal, the Furby Connect has beautiful and colorful eye animations — more than 150 of them! Like the Hatchimal, kids can teach Furby how to speak, though this requires an app. And kids can put their Furby friend to sleep with a sleep mask that's included.
Also in the Furby family is this set of three Furby Boom Eggs, available at Amazon for $19.99. The eggs are blind-packaged, so like the Hatchimal, your child won't know what he or she will be getting, which makes it all the more fun.
Another great alternative is this growing pet dinosaur from VidaToy. Like Hatchimals, this dinosaur hatches from an egg and grows up to six times its size in the following days. These can make a great stocking-stuffer at $9.99.
Everybody loves cats. (Unless you're one of those hyper-loyal dog lovers who hates them.) So why not give your child this adorable life-like kitty? FurReal Friends Bootsie from Hasbro responds just like a real cat — she loves to be cuddled, purrs, and has different moods. This feline goes for $31.99 on Amazon, and doesn't require kitty litter.
Good luck to everyone searching for a Hatchimal. But if you can't find one, it's not the end of the world (or your child's Christmas). They will definitely be happy with any of these great toys. And hey — there's always next year.