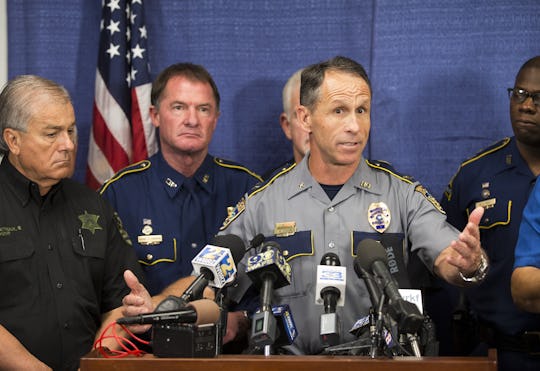 Mark Wallheiser/Getty Images News/Getty Images
Alton Sterling's Background Shouldn't Be Subject To Scrutiny
On July 5, Alton Sterling was shot and killed by police officers in Baton Rouge, Louisiana. A bystander recorded a video of his death on his cell phone, which soon went viral and inspired rage, sadness, denial, and confusion across the United States. At first, little was known about the circumstances of his death except that he had been selling CDs outside of a convenience store when he was confronted by police. As more outlets picked up the story, more and more people became interested in Sterling's life and criminal record as if to justify his death. But Alton Sterling's background shouldn't be subject to scrutiny because legal protection and due process is a right for everyone under the law, no matter their history. Saying he deserved the attention of law enforcement is tantamount to saying he deserved to die quickly and without justice.
According to the Baltimore Sun, Baton Rouge law officials offered members of the media copies of Sterling's "rap sheet" for $148 per copy. Those that requested one received a 46-page document that chronicled a 20-year history with the law. According to Heavy.com, who digitized and shared the record, charges included things like illegal possession of weapons, battery, domestic abuse, disturbing the peace, sex with a minor, possession of stolen property, and, very recently, failing to register as a sex offender. The list of offenses and arrests is not short.
There's a lesson to be learned here, and it's not that Sterling was "asking for it." The interaction he had on July 5 was not his first contact with police officers — that is clear. In fact, according to his record, about 20 years ago he pleaded guilty to battery towards a police officer. A few years later he threatened to have some police officers fired. His affidavits show that he could not be called cooperative when it comes to run-ins with police officers. What's important here, though, is that every time he has been arrested or fought back against an officer, he's been subdued, then charged. This time, that didn't happen. Sterling didn't change, the police did. This time, he wasn't put into a police car and taken to the station. This time, he was shot. According to WBRZ-TV, he died of multiple gunshot wounds to his back and chest.
In the past, his record was irrelevant to his treatment. He always went through the same booking, charging, and recording process. That should have been the case here. Unfortunately, it was not and is not. Regardless of his criminal record, his death seems unwarranted. The Baton Rouge Police Department released the following statement regarding Sterling's death:
OFFICER INVOLVED SHOOTING ON NORTH FOSTER DR
Baton Rouge Police are investigating an officer involved shooting that occurred around 12:35am this morning at 2112 North Foster Dr, Triple S Food Mart. Uniformed officers responded to a disturbance call from a complainant who stated that a black male who was selling music cd's and wearing a red shirt threatened him with a gun.
Officers made contact with ALTON STERLING, 37, 6061 Plank Rd, in the parking lot of the business. An altercation between Sterling and the officers ensued. Sterling was shot during the altercation and died at the scene.
Two BRPD officers have been placed on administrative leave per standard procedure.This is an ongoing investigation.
According to press conference held by the Baton Rouge Police Department, the case has been moved to the federal level. The case will now be handled by the FBI and the Justice Department, and while they may lack local insight, they have the benefit of a wider purview and a broader understanding of justice violations.
In the video of the press conference, District Attorney Hillar Moore said, "Based on my review, I thought this would be better handled by an independent agency." He added that "the officers feel they were completely justified." While Baton Rouge Police Chief Carl Dabadie Jr. said Sterling's death was a "horrible tragedy," Louisiana Governor Edwards warned that "violence and destruction of property is not an answer to anything we face today."