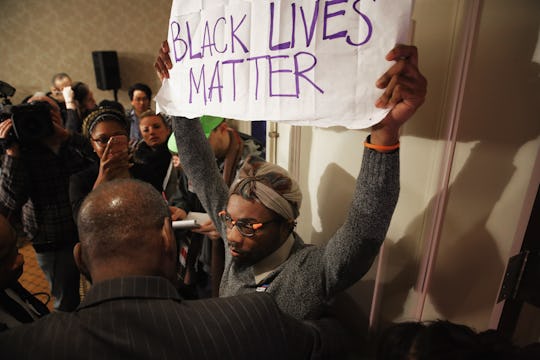 Chip Somodevilla/Getty Images News/Getty Images
Alton Sterling's Son's Reaction At A Press Conference Is Something Everyone Needs To See
Many are grappling with the horrific video footage showing Alton Sterling's last moments before he was shot to death by police early Tuesday morning in Baton Rouge, Louisiana. The death of the 37-year-old black father of five sparked outrage, as many continue to confront the growing list of black people killed at the hands of police in America. Sterling, who was reportedly selling CDs before he was shot to death, lost his family, loved ones, and his life, early Tuesday morning. And Sterling's son's reaction during his family's press conference shows how devastating the consequences of police shootings, and police violence, truly are.
At a Wednesday morning press conference on Sterling's death, Sterling's 15-year-old son Cameron broke down as his mother Quinyetta McMillan shared the unspeakable pain their family is experiencing:
The individuals involved in his murder, took away a man with children, who depended upon their daddy on a daily basis. My son is not the youngest, he's the oldest of his siblings. He is 15 years old. He had to watch this as this was put all over the outlets, and everything that was possible to be shown. As some may know Alton, sold CDs and was doing just that, not bothering anyone, and had the consent of the store owners as well.
She continued, "Now if we could reflect on the measure of a man, it should not be judged on his past." She added, "as this video has been shared across the world, you will see with your own eyes, how he was handled unjustly and killed without regard..."
Sterling's 15-year-old son will never see his father alive again. His and his siblings' lives, and everyone who knew and loved Sterling, will forever be affected. Hearing his son's uncontrollable cries at the press conference only scratches the surface of the unimaginable pain he, and his family are feeling.
And as for black people in the United States who have read about Sterling, or watched the video, it continues to be another painful reminder of the historic, systemic, and present-day dangers of police shootings and police violence which disproportionately affects black people.
According to a CNN report, the police officers involved in the shooting were reportedly wearing body cameras, but they were "dislodged" during the encounter with Sterling.
"That footage may not be as good as we hoped for," Baton Rouge Police Lt. Johnny Dunham said according to CNN. "During the altercation, the body cameras did become dislodged, but they did stay on and (were) active and recording at this time." It was a bystander's cellphone video instead that captured the encounter, where the police officers can be seen tackling and pinning Sterling down before shooting him (the graphic video can be seen here).
A statement from the Baton Rouge Police Department indicated that officers "responded to a disturbance call from a complainant who stated that a black male who was selling music cd's and wearing a red shirt threatened him with a gun."
In an interview with The Advocate, the convenience store owner where Sterling was shot to death, Abdullah Muflahi, said Sterling wasn't holding a weapon during his encounter with the police. He also added that Sterling started to recently carry a gun after friends of his who sell CDs "were robbed."
At the end of this tragic incident, Sterling lost his life, and five children lost their father. And their lives will never be the same.