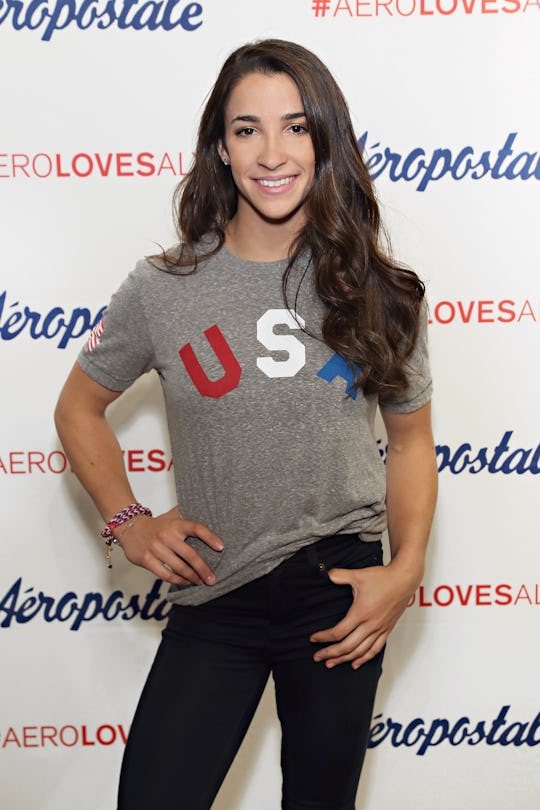 Cindy Ord/Getty Images Entertainment/Getty Images
Aly Raisman Says 2020 Olympics Are Not Out Of The Question, Despite The Rumors
It's always bittersweet to see the Olympics come to an end. After a few weeks of intense competition, the elite athletes pack up and head home until the next round of games start up in four years. Some of our favorite athletes, like Michael Phelps, even said goodbye for good at the end of the Rio Olympics, and many thought another beloved Team USA member might have taken her final bow in 2016 as well. However, Aly Raisman, part of the iconic Final Five gymnastics squad, made a big announcement while appearing on "The Ellen Degeneres Show" on Wednesday: Raisman says the 2020 Olympics are not out of the question for her, despite speculation to the contrary.
While rocking her silver medal, Raisman revealed that she plans on competing in the 2020 Tokyo Olympics. If she's selected to be a member of Team USA in four years, it will be the gymnast's third Olympic games. At just 22 years old, Raisman was the oldest member of her squad. Her teammates even affectionately referred to her as "Grandma Aly." There was speculation that Raisman would not pursue the games in Tokyo due to her age, however, she was quick to shut those rumors down.
"I thought I was in the best shape of my life in 2012, but it's even better now," Raisman said of her first Olympic games in London 4 years ago. "I'm excited to see what can happen in 2020." ‌
If Raisman makes the 2020 squad, she will be the fourth U.S. women's gymnast in history to compete in 3 consecutive games. Dominique Dawes was the last gymnast to pull off this feat, appearing at her third Olympics in 1996. Winning gold in Rio wasn't enough to satiate Raisman's competitive spirit: She wants to break a 20 year record to boot.
While Raisman is determined to continue her winning streak in Tokyo, she's not jumping right back in to training. The gymnast is going to take a much deserved year off from her rigorous training schedule before getting serious for 2020. If you're worried the year off will hurt Raisman's chances of making the team, you shouldn't be. She took a year off after the 2012 London Olympics and came back even better for Rio this summer.
Raisman is currently the second-most decorated American gymnast of all time. She has six Olympic medals, falling just short of Shannon Miller's seven. If Raisman's plans of taking on the 2020 Olympics in Tokyo work out, there's a solid chance this is another record the gymnast could break. No big deal or anything.
Raisman definitely deserves a year of rest and relaxation after her performance in Rio this summer. I can't wait to see what she has in store when she gets back on that mat in 2017.