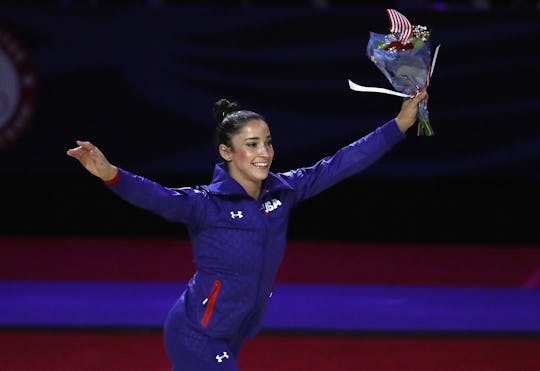 Ronald Martinez/Getty Images Sport/Getty Images
Aly Raisman's Instagram Teaches Fans 14 Awesome Things About The Gymnast
In many ways 22-year-old Aly Raisman is just like any other millennial on social media: she posts about her friends, hobbies, pets — and the perfect PB&J ratio. But Raisman isn't your average millennial — she's a two-time Olympic gold medalist getting ready for the 2016 summer Olympics.
Raisman, who was captain of the United States Women's Gymnastic's Team at the 2012 Summer Olympics when she was just 18 years old, hails from Needham, Massachusetts. She was born to Rick and Lynn Raisman and has three younger siblings: Brett, Chloe and Madison. She graduated from high school in Needham in 2012, after finishing her senior year online so that she could train for and attend the Olympics. Off season for competition, she attends Babson College in Wellesley, Massachusetts.
When she's not training (and, well, even when she is!) Raisman is active on social media — mostly her official Twitter and Instagram — where she gives a glimpse into the life of an award-winning Olympic athlete. But there's totally more to her than just gymnastics; here are some fabulous things I learned about the Olympic hopeful when I gushed over her Instagram and Twitter.
She Has Her Own Lines Of Socks!
Raisman partnered with FEAT — a lifestyle brand that is devoted to making socks not just functional but stylish, too — to create her own line of super-cute socks. Pairs start at $14.99 and the fabulous feet finds are all made in the U.S.
She Uses A Lot Of Tape For Her Ankles
She gave a shoutout to her teammate, Simone Biles, in this Instagram post where the two show off how much athletic tape they use (#ShesNotHuman, Raisman added, reffering to Biles apparently super-strong ankles!) Athletes, professional or otherwise, often use wraps or tapes to help support their tendons and ligaments, especially if they've had injuries in the past.
She Knows How To Protect Her Skin Too
Even though she was just headed for a workout in this post, Raisman said she puts on sunscreen every single day, even if she isn't planning to wear make up or be outside for an extended period of time.
And she loves the doctor-recommended Revision Skincare line of products!
She Loves Her Fans & Her Hometown Gym
Raisman started gymnastics when she was just a toddler, so her littlest fans — like the sweetheart pictured here who drew her a good-luck picture for the Olympics — really look up to her. She still goes to her hometown gym, Brestyan's American, and they couldn't be prouder of her.
She Freaked Out When She Found Out She Was Going To Rio
And who could blame her?!
She Knows What Total Exhaustion Feels Like
"LIVING ON THE EDGE THIS MORNING. Was so tired last night I didn't realize I had 2 miles left when I got home. Thankfully made it to the gas station. In my own little world over here 🙈"
Yep, we've all been there!
She Loves Her Mom & Dad, & PB&Js
Her mom, Lynn, was a gymnast in high school (and they look so much alike!) Raisman partnered with Smuckers as a sponsor for Rio, so she's been eating a ton of PB&J's this year.
She Has An Amazing Make Up Collection
And she needs the good stuff so she doesn't sweat it all off during her intense routines.
And Sometimes She Just Wants To Lay Around & Watch Netflix With Her Dog
"Comfy sweats, comfy socks, comfy new mattress, Netflix, my cutie Gibson & some mint tea 💗💋"
She Loves Selena Gomez & Would Love A Leotard Inspired By Her
Speaking Of Leotards: Her dog, Gibson, Even Has One!
When Raisman's traveling, she FaceTimes with Gibson.
She's A Super Supportive Big Sister
Here she is with her younger sister, Chloe, who is an accomplished equestrian.
She Binge Watched Friends When It Came On Netflix, & She's Totally A Rachel
"HAHAHAHA this is used to me and @jordyn_wieber now it's me and @alyssa_baumann (obviously Rachel isn't packed and I never am either 😂)"
She's Truly Passionate About What She Does, Even If It Means She Has To Put Up With Epic Wedgies