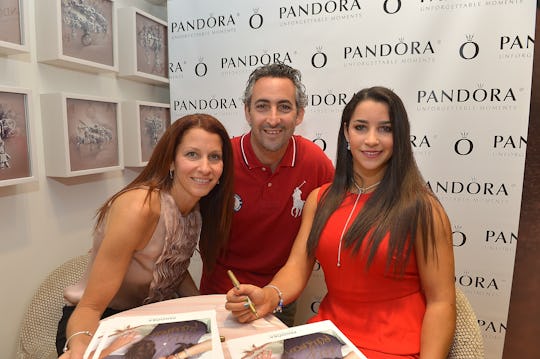 Charley Gallay/Getty Images Entertainment/Getty Images
Aly Raisman's Parents Are Just As Adorable On Twitter & Instagram
If you've been watching the Olympic gymnasts at the 2016 Rio Olympics — especially during their first showing on Sunday night — you'd understand why the internet is completely in love with not only them, but their families as well. Aly Raisman's parents — Lynn and Rick — are adorably and noticeably nervous every time she competes. They squirm and weave while their daughter is on the balance beam and bob and lean on each other, or anyone in the stands with them, throughout everything else. They physically can't control their joy in the stands and their Twitter and Instagram accounts prove their gold medal parenting goes beyond the bleachers.
Since the 2012 London Olympics, the Team USA gymnast's parents have become famous for physically emotional reactions. Now, the camera knows to scan to them anytime their daughter is performing. This year in Rio, it looked as if they were on an invisible roller coaster as they squirmed in their seats and covered their eyes when they just couldn't watch or the tension became too much to handle. Thankfully, their daughter loves it and thinks of them as a lucky charm.
"It's so funny," the gold medalist told USA Today on Tuesday. "I've been making my dad wear the same shirts that he wore in London for each competition because they're good luck."
But watching their 22-year-old daughter compete isn't always the easiest thing to do. In a recent interview with People, the very proud mom, Lynn, said she "always cries" at Aly's meets.
"I get nervous because I know what goes into it and how many hours she's prepared and how hard she is on herself, and I want her to be happy and go out there and do the best performance she can do," she told People. "So when it's over, she is happy no matter the results, so I do get nervous. But whatever she was doing I want her to have the best outcome."
It's very clear that their family bond is insanely strong. If it wasn't obvious enough, some of Lynn's Twitter and Instagram posts show they're always there to cheer on the entire gymnastics team and have some fun with the experience, only when they're not so nervous of course.
The gymnast's mom often retweets articles and posts about her daughter's successes. And while Aly's father, Rick, doesn't appear to post on social media very much, his cheering at the competitions in person speaks volumes.
Even though Team USA won team gold on Tuesday, the individual events are just a day away and the world can't wait to see how these incredibly talented athletes will finish out this year's summer games — and of course, to watch the Raismans squirm around and clutch to their seats as their daughter helps bring home even more gold.