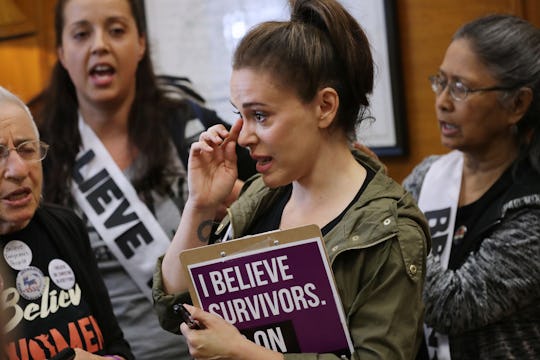 Chip Somodevilla/Getty Images News/Getty Images
Alyssa Milano Came Forward About Her Sexual Assault For Her Daughter's Sake
When it comes to furthering the conversation about sexual assault, sometimes, the best place to start is in our own homes. In the era of #MeToo, wherein transparency about sexual misconduct is coming to the forefront of our collective consciousness, some public figures are speaking out to explain the logic behind those who don't report their assaults. However, it was one particularly touching #MeToo story that's grabbed the attention of many fans this week. Alyssa Milano says her daughter gave her the courage to come forward about her sexual assault, and her message is extremely moving.
People reported today that Milano took to her social media feeds to post a video that she sent to her daughter, 4-year-old Elizabella.
"Dear Elizabella, hello. It's your mommy, and I wanted to make you a little video because I'm sitting in my trailer in Atlanta, and I miss you so much, and I wanted to just do this for you," Milano begins. "Today is Jan. 18, 2018 and Donald Trump is our president — crazy — and more importantly than that, women everywhere are sharing their stories of sexual harassment and assault, and they're saying phrases like, 'Me too' and 'Time's up.' And I don't expect you to understand this, obviously, right now because you're a baby."
Milano continued:
"One night when I was lying in bed with you, I looked down at you and your sweet, beautiful face, and I got really scared. I got scared for you, and I sent out a tweet asking for women to stand in solidarity, and a lot of people replied. So in a way I wanted to make this video for you because in a way all of this is because of you, because you gave Mama the strength."
She continued: "I wanted to thank you, really, and also let you know that I want you to grow up from a strong little girl into a strong woman that knows, really knows her worth and that is valued for her brain and her beautiful, big heart and her sweet, sweet soul and her talents and not for her body."
Finally, she concluded promising that she was "working very hard" and that she is committed to ensuring "silence is not the norm" when her daughter is older.
I want you to know that also I'm working very hard, a lot of women are working very hard to make sure that silence is not the norm for your generation and that you will never … have to say 'Me too.' But if you do, god forbid, if you do have to ever say 'Me too,' I want you to know that you will be heard and that you should speak your truth and that Mama's always here for you … I love you very much, and I'll keep fighting."
This is not the first time that Milano has been public about her political stances or her personal experiences with sexual misconduct. In fact, as CNN reported, Milano was in the room during Brett Kavanaugh's recent hearing when Dr. Christine Blasey Ford testified about her allegation that Kavanaugh sexually assaulted her in high school.
Last month, Milano penned an op-ed for Vox in which she explained why she didn't initially report her sexual assault, shedding light on the psychology of why victims stay silent.
"Victims of sexual assault often don't report what happened because they know all too well that our stories are rarely taken seriously or believed — and that when it comes to sexual misconduct, our justice system is broken," she wrote. "Now we are seeing our worst nightmares realized when we see the disbelief, pushback, hate, and death threats Ford is receiving just because she had the courage to speak up."
It's clear that the courage of women like Milano, Blasey Ford, and the other survivors who have been brave enough to rehash their deepest traumas in an effort to shed light on an issue of epidemic proportions will be the reason the culture finally shifts, and safety and fairness for women is — at long last — prioritized.