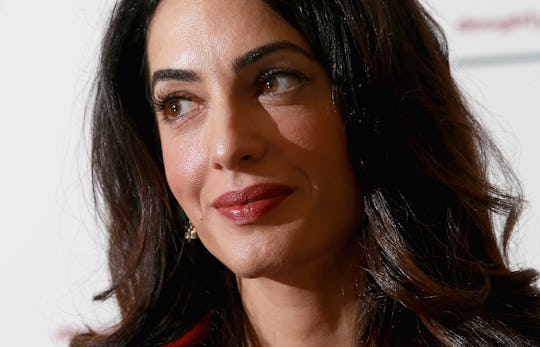 Chris Jackson/Getty Images Entertainment/Getty Images
Amal Clooney Feminist Quotes Are Powerful
Amal Clooney, the amazing international court lawyer and human rights activist, is expected to give birth to her twins with husband George "any day now," sources told Entertainment Tonight late last month. Even George himself hinted that his twins are set to arrive soon, as he skipped out on an awards ceremony in Armenia on Sunday, offering a video message explaining he can't be too far away from Amal. Meanwhile, Amal Clooney is nothing short of a superwoman at the moment, slaying it fighting for human rights and stopping ISIS before the United Nations as recently as March. Amal Clooney's feminist quotes prove that, no matter what she's doing, she's going to be one very inspiring mom to her twins.
Clooney, née Alamuddin, was born in Beirut, Lebanon. Her extensive schooling and prestigious fellowships and internships have guided her on a path of remarkable legal advocacy. Some of Clooney's most notable clients and legal fights have including representing Julian Assange and his extradition case, as well as working on the recognition of the Armenian genocide, an event that Turkey still denies. In November, Clooney was honored as the keynote speaker at the Texas Conference for Women, where she gave a powerful and moving speech about ISIS and women's rights. Here are some of Clooney's best feminist quotes.
"Everyday Acts Of Feminism"
When Clooney keynoted the Texas Conference for Women, she gave an incredible speech about how women must look out for each other, as well as fighting the anti-women political climate in America with "everyday acts of feminism," according to the Huffington Post:
The worst thing that we can do as women is not stand up for each other, and this is something we can practice every day, no matter where we are and what we do — women sticking up for other women, choosing to protect and celebrate each other instead of competing or criticizing one another.
"I'm Wearing Ede & Ravenscroft."
Clooney someone manages to not only kick international crime's ass and take names, but she has impeccable fashion sense. One of the most frustrating and sexist things she must endure is how Clooney is reduced to objects and symbols of her femininity — fashion and her pregnancy — often overshadowing the real news about the incredible work she does.
When hounded by paparazzi in 2015 as she appeared to fight for recognition of the Armenian genocide, she was asked the same, tired question asked of all female celebs: "What are you wearing?" To which Clooney simply replied, "I'm wearing Ede & Ravenscroft." If that brand name doesn't sound familiar, it's because it's the clothier that produces the traditional court robes worn by British barristers. As the soon-to-be mama of boy-girl twins, this quote serves an important lesson, teaching her children that women are more than just the clothes they wear.
"The Opportunity Of A Lifetime"
In late 2015, the accomplished lawyer partnered with the group 100 Lives to establish the Amal Clooney Scholarship, a prestigious award that would send one Lebanese female student to the United World College in Armenia each year. In a statement, Clooney said, "This scholarship will give young women from Lebanon the opportunity of a lifetime," adding that "cross-cultural learning and studying abroad can be transformative." For the Clooney twins, it's clear there will be not only an emphasis on learning, but empowering their peers in education.
"I'm Still Doing The Same Job"
In an interview with NBC Nightly News in early 2016, Clooney was pressed about her newfound fame and celebrity status as the wife of such a famous actor. She offered this amazing quote about how being a celebrity is great and all, but the work she's doing is more important — and that despite her celebrity status, she's going to keep fighting the good fight.
I think it's wonderful celebrities would choose to spend their time or energy or, you know, the spotlight that they have to raise awareness about these causes. I don't really see myself in the same way because I'm still doing the same job that I used to do before. So if there's more attention paid for whatever reason to that, then I think that...then I think that's good.
Clooney has shown, in both deeds and words, that nothing will stop her from being an empowered activist fighting for human rights — and I bet she'll be just as empowered and inspiring as mom, too.