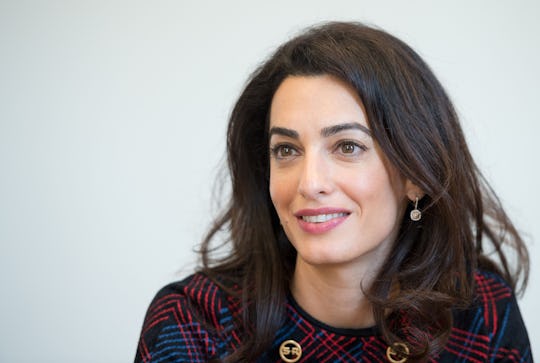 BERND WEISSBROD/DPA/Getty Images
Amal Clooney Is Returning To Work, But People Are Ignoring The Important Reason Why
Human rights lawyer/superhero Amal Clooney is back in the public eye, just a few months after giving birth to twins. Amal Clooney returned to work, and the reason why is so badass and important, and also completely relevant to her powerful career as someone fighting for human rights and social justice. She made an appearance at the United Nations in New York on Thursday, to attend a Security Council meeting where she sought (and, apparently, was granted) an investigation into ISIS, and the crimes they've committed against the Yazidi people, according to The Telegraph.
Amal represents members of Iraq's Yazidi community who were raped and kidnapped by ISIS militants, according to The Daily Mail. She was there to represent one Yazidi human rights activist in particular, Nadia Murad, who was captured and tortured by the group. She's been representing Murad for more than a year now, The Telegraph reported.
And while Amal has been in the news lately because of her marriage to actor George Clooney and the birth of their twins, Alexander and Ella, she's been a lawyer for longer than she's been a wife and mother. Her crucial work to advance human rights is extremely important, and should be given just as much, if not more attention, than her status as a figure in Hollywood.
But much of the coverage of Amal's appearance in New York focused on how she looked and what she wore during her visit to the United Nations. ET Online wrote about her "retro-style red Bottega Veneta skirt suit with a burnt reddish-orange pussy-bow blouse, nude Manolo Blahnik heels and a Michael Kors purse." And while that does sound like an awesome get-up, it's a little disappointing that the same article included literally no information about why she was there in that outfit in the first place.
Because Amal's words during her appearance before the UN Security Council should draw more attention than the admittedly awesome color of the blouse she wore while she was there. Amal made her stance very clear before the council when she said, according to The Daily Mail:
Yazidis and other ISIS victims want justice in a court of law, and they deserve nothing less.
And she's not just talking the talk. Amal and George are also allowing a Yazidi refugee from Iraq to live at their house in Augusta, Kentucky, according to W Magazine. The couple is reportedly helping the man to receive a college education from The University of Chicago as well. So her activism extends beyond her extremely crucial work and into her personal life.
But as it turns out, the outfit from the appearance in question might have actually been strategic on her part. She "often reaches for her boldest suits when she has a key speech to make or a big case to win," according to The Telegraph. Amal uses fashion as one way to get people to pay attention to her and her incredible causes, but that's just one tool in her arsenal, and not the only one that people should focus on in coverage of the human rights lawyer.
Whatever it was that swayed the council, it seems to have worked. The council unanimously passed a resolution that asked the UN to create an investigative team to help Iraq protect evidence that could prove the occurrence of war crimes, crimes against humanity, and genocide committed by ISIS, according to The Daily Mail. As a result of the vote, their investigators can now help Iraq collect evidence to build possible criminal cases against the militant group.
Amal may have looked stunning during her appearance before the UN, but more importantly, her words made an impact — the person she is, not what she looked like, is the powerful takeaway. With her help, members of Iraq's Yazidi community will hopefully get the justice they deserve.
Watch Romper's new video series, Romper's DoulaDiaries:
Check out the entire Romper's Doula Diaries series and other videos on Facebook and the Bustle app across Apple TV, Roku, and Amazon Fire TV.