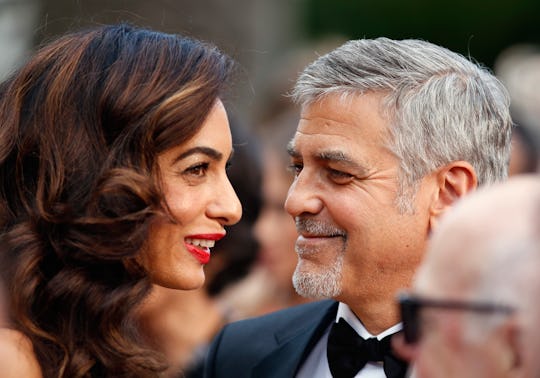 Tristan Fewings/Getty Images Entertainment/Getty Images
Amal Clooney Quotes About Parenting Are Beautiful
It's confirmed: Amal and George Clooney are expecting twins, and the world cannot wait to meet the power couple's babies. Now that the news is out there, fans are wondering about the Clooneys' parenting potential — and you'd be hard-pressed to find one who does not believe that the Clooneys will be star parents. George has spoken out about kids quite a bit in public, while his wife has tended to be more reserved — but Amal Clooney's quotes about parenting and life are proof enough that she'll be an awesome mom.
Despite first coming into the limelight for marrying everyone's teenage crush, human rights lawyer Amal has gained quite the following of her own, and rightly so — she's one of the world's most prominent lawyers (having represented clients such as Wikileaks founder Julian Assange and the Greek government); she has impeccable taste; and she's spoken up for refugees and women around the world.
Amal seems fairly private, and she hasn't spoken about children much, but she's shared her views on parenting when speaking about her own mom in the past. "I think growing up my mother was definitely a role model, she was always a working woman and someone who is independent and cared about her career and cared about being independent, but also had balance," Amal said at the Texas Conference for Women in November, according to People. "She never lost her femininity and she believed the balance was important and that is something that stuck with me."
If she has girls, Amal will also clearly be a force for raising strong women. If she has sons, you better believe they'll be raised with a feminist as a mother. "If we keep up the fight for women's rights, I believe there is nothing we can't do," Amal said at the Texas Conference for Women, according to Vanity Fair. She continued:
As women, there is a bond that we all share. It's a bond of shared experience. Experiences that only women go through and struggles that only women face. The worst thing that we can do as women is not stand up for each other. And this is something that we can practice everyday no matter where we are or what we do. Because if we are united, there is no limit to what we can do.
Chances are Amal will also teach her children to strive for their passions, and not to give up when they encounter difficulty. In fact, judging by her approach to her work, she'll probably have a growth mindset when it comes to parenting, as well.
"If you are a lawyer and you want to take on easier cases, you can prosecute traffic violations or something," Amal told NBC News last year, in her first TV interview, according to Us Weekly. "You'd have a very high rate of success and you probably could sleep more easily at night. But that's not what drives me. I want to work on cases that I feel the most passionate about."
According to Guide Live, Amal's advice to her students during her time at Colombia School of Law might also indicate how she feels about parenting. "Be true to yourself and do it your way," she said, according to Guide Live. She doesn't believe in the ten-year plan, either, instead telling students: "It's better to see where the work takes you."
That's advice that should help her and George let their kids grow into their authentic selves — and let them go with the flow of raising twins. Congratulations to the couple and their growing family!