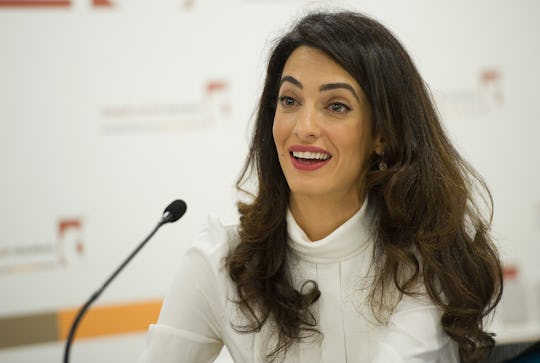 Amal Clooney Starts Scholarship For Lebanese Girls, & 5 Other Reasons You Should Be Obsessed With Her
Partnering with 100 Lives, a non-profit that educates people about the Armenian genocide, international human rights attorney and, wife of George Clooney, Amal Clooney launched a scholarship for Lebanese girls. A native of Lebanon, Amal Clooney has started an organization to award a scholarship at the United World College in Dilijan, Armenia to young women. Educated at Oxford and then NYU Law, Amal Clooney has quite an impressive scholastic background. And now she's working to give the gift of education to Lebanese girls in her name. "This scholarship will give young women from Lebanon the opportunity of a lifetime," Amal Clooney said in a press release. "Cross-cultural learning and studying abroad can be transformative. I am grateful to 100 Lives for helping to open doors for these bright and talented young women."
The Huffington Post reports that to be eligible for the Amal Clooney Scholarship girls must exhibit "exemplary academic performance and demonstrable interest in the promotion of human rights and international issues." So, basically, she's paying it forward and creating a whole troupe of mini-Amals. Which is totally amazing because I'm obsessed with Amal Clooney, and you should be too. Why?
She Proves Brains And Beauty Are Not Mutually Exclusive
She looks as on point in her Strasbourg Court of Appeals robe as she does in couture.
But She Definitely Has Style For Days
Here she is getting fitted by none other than John Galliano for the 2015 Met Gala. Anna Wintour in the background, a snap by Mario Testino is NBD for this gal. Even better than her dress is her casual attitude about glamour and glitz.
She Worked For A Supreme Court Judge
While a law student at NYU, Amal Clooney (back then Amal Alamuddin) worked as a student clerk for Sonia Sotomayor, who was appointed to the Supreme Court in 2009.
That Hair
I mean, she's giving Queen Bey a run for her money for best hair flip. Just look at those chocolate brown locks.
Tina Fey And Amy Poehler Think She's Rad
Remember this moment from the 2015 Emmys? I do. A nod from the these two women (and the applause that followed) show how beloved Amal Clooney is by the Hollywood set.
So if you aren't already obsessed with the human rights advocate and goddess that is Amal Clooney, just get on the bandwagon, people. She's a class act who's comfortable in her skin. Maybe that's how she snagged the world's most notorious bachelor (although for the life of me, I can't figure out how he was good enough to snag her.)
Images: Eamonn M. McCormack, AFP/Getty Images; Giphy(2)