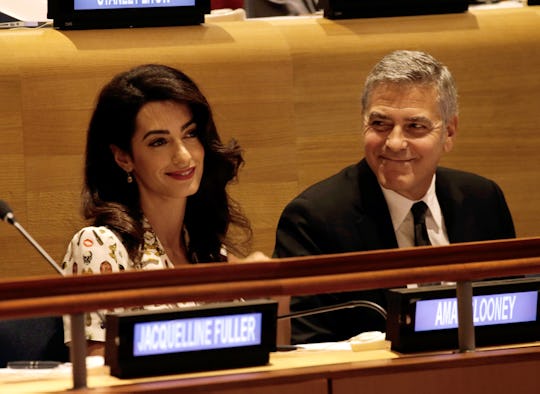 Pool/Getty Images News/Getty Images
Amal Clooney Visits The UN To Debut Bump
The beautiful wife of a handsome actor is expecting twins, and, on Wednesday, Amal Clooney debuted her bump at the United Nations, sporting a sleek black skirt suit and a pair of shimmery striped Ferragamo pumps that the Daily Mail noted are currently on sale, so if you're hoping to steal her pregnancy look, now's the time! People caught sight of the Lebanese looker later in the evening after a costume change, and she was reportedly rocking head-to-toe Bottega Veneta in the form of a brick-print dress, a pink cashmere overcoat, and a matching handbag. Girl sure can flaunt a full womb!
By Clooney's side during the first outing, according to Time, was Nadia Murad. Murad is a Nobel Peace Prize nominee who was held captive as a sex slave by ISIS. So why was Clooney with Murad? Most of us have only seen her next to people like Beyoncé, or Lena Dunham, or Jennifer Lawrence. You may not know this, but when Amal's not busy serving as arm candy for her A-list husband, George, turning heads on the red carpet or the sidewalks of New York and London, she has a little side project as an international human rights lawyer. Who knew?
Clooney is seeking to put ISIS leaders on trial for the kidnapping, rape, torture, and murder of thousands of Iraq's Yazidi people like Murad. In September, she delivered a scathing speech at the U.N., calling out those who had done little to protect the Yazidi. Clooney told NBC News at the time that "this is a clear case of genocide, and genocide that's gone completely unaddressed and ignored." The International Criminal Court has said that they can't investigate the matter unless Iraq invites it to, or the U.N. Security Council sanctions an investigation.
Ahead of her U.N. appearance this week, where she debuted that amazing bump, Clooney told the BBC, "It's been the most harrowing testimony I've ever heard. We know that it's genocide. The U.N. has said so. In other words: ISIS is trying to destroy them as a group and we are allowing it to happen without actually calling ISIS to account."
Those interested in learning more about Murad's harrowing journey can visit her website. The Guardian also has an explainer about the history of the Yazidi and their victimization by the Islamic State.
But, more importantly, according to many blogs and gossip websites, Clooney was back at the U.N. in yellow today and she looked amazing! What will she wear to dinner tonight? Will she ever quit her job and join the P.T.A.? Stay tuned.