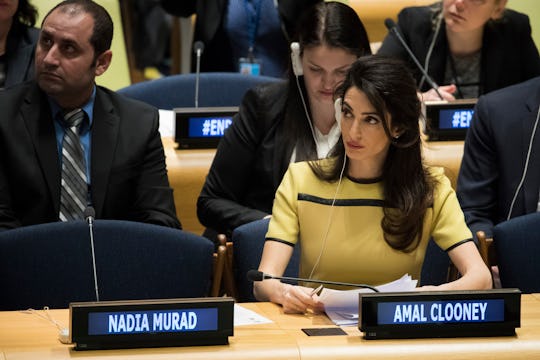 Drew Angerer/Getty Images News/Getty Images
Amal Clooney Won't Work Full-Time Until 2018, & It's A Choice More Moms Should Have
International human rights lawyer Amal Clooney gave birth to twins earlier this summer, her first children with actor-husband George Clooney. And according to an Us Weekly report, the new mom plans to give herself and her family some much-needed space to rest and recover by taking maternity leave. That all sounds completely normal, right? And if it doesn't, it certainly should. In an interview with Us Weekly, an unnamed source close to the couple said Amal Clooney won't work full-time until 2018. (A representative for George Clooney has not responded for Romper's inquiry regarding whether the report is actually true.) Sadly, Clooney's (completely sane and awesome) reported choice is news because, well, it's a choice that far too few women can make.
While pregnant, Amal Clooney, a respected barrister employed by Britain's Doughty Street Chambers, kept up her considerable work defending female victims of ISIS and was honored for her advocacy on behalf of thousands of victims of genocide by ISIS militants. The Clooneys became parents on June 6 with the birth of their twins: daughter Ella and son Alexander. According to US Weekly, the family has spent the summer getting to know each other in their home on Lake Como in Italy. And according to the unnamed source, Clooney plans to give herself space to make the adjustment to motherhood and to her twins, taking some five months of leave before returning to work full time.
Here's what that source had to say about Clooney's plans for returning to work, according to Us:
I don't think Amal has ever known how to slow down, but as soon as she had the babies everything made sense. She's really not been thinking about anything other than her precious two. She's taken to motherhood perfectly.
Clooney's plan really shouldn't be remarkable. With evidence mounting that mothers need a full year to recover after giving birth, slowing down from work for five or six months seems ideal.
But not many women can afford to slow down after having a baby, especially not in the U.S. It's a well-established fact that paid parental leave options in the United States are downright abysmal. Without a federal mandate, employers can essentially make their own rules for the kinds of benefits offered to workers. As a result, millions of parents don't have a single day off after birth or adoption, according to a USA Today report. And a 2015 study by policy researchers at Abt Associates found that some one in four women are forced to go back to work within two weeks of having a baby. That same study pointed out that most paid leave benefits were concentrated on the highest-paid workers. That means the women least likely to have an economic cushion were also least likely to get any kind of employer-backed parental leave benefit.
At the same time, stories of women in high-powered positions taking mere days away from their jobs after having a child only adds to the harmful narrative that maternity leave isn't really necessary. Former Yahoo CEO Marissa Mayer took only two weeks of leave after giving birth in 2015. And a former employee of first daughter Ivanka Trump told the New York Times earlier this year that (despite the president's interest in parental leave legislation) Trump discouraged women from taking maternity leave while with the organization. According to the Times, Trump told the employee that "We don't have maternity leave policy here; I went back to work one week after having my child, so that's just not something I'm used to." Ivanka Trump's company has not responded to Romper's request for comment.
So, when an international powerhouse like Amal Clooney makes the quiet (sane) decision to take ample time to recover from birth, it means something. Whether she intended to or not, Clooney is making a statement about what all women — all parents, really — require after welcoming a child into their lives. It shouldn't be a revolutionary concept. But we live in a world where far too few women can afford to make that choice.