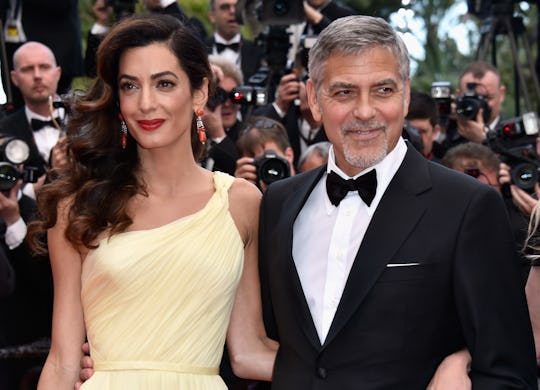 Pascal Le Segretain/Getty Images Entertainment/Getty Images
Amal Clooney Got Really Honest About Breastfeeding Her Twins, & Her Comments Are Hilarious
Since Amal Clooney and her husband George welcomed twins Ella and Alexander last year, Amal has mostly remained mum about her new role as mom. Though George has been outspoken about the challenges of parenting, Amal opened up to Vogue for the first time about breastfeeding twins and balancing motherhood with her career, which was as much refreshing as it was important.
To those who aren't familiar with the Clooney family (but to be honest, that is probably very few) Amal is a human rights attorney and noted activist. (She and George recently pledged $500,000 to support March For Our Lives.) When they aren't focused on civil service, they are working on their parenting, which was actually a complete surprise to them. George told The Hollywood Reporter that they "didn't plan on having kids," and that they "never talked about it until after [they] were married."
However, three years into their marriage, Amal found out she was pregnant with not one but two babies. In the same interview with THR, Amal shared that her sister, Tala, also has twins, and that she's not interested in having anymore. "I'm 39, I already had them quite late," she said.
In a new interview with Vogue, Amal opened up about parenting a little more, especially about what it took to breastfeed two babies at once. Amal said that she values "quality time" in the morning: "Between six and eight in the morning we get to have them in our bed—I don't schedule any calls before eight... When I was nursing, it was much more complicated, because there are two. I had all manner of weird cushions and pillows and machines."
In the same interview, Amal opened up about the fact that Ella and Alexander have started speaking. "We've had some 'Mamas' and 'Dadas,'" she said, before adding: "George was very careful to ensure that 'Mama' was the first word." (Swoon.)
As for her work-life balance, they do employ a whole team of people to help them with raising kids and juggling hectic careers (a move which is, at the very least, an extraordinary privilege). During the interview, nannies did step in to help care for the kids after they woke up so that Amal could continue her work. However, George had previously noted in other interviews that their parenting style was very-hands on, and that they felt strongly it was their responsibility to be as present with their kids as possible.
"What's the point of being a parent if you don't get your hands dirty?" George previously told the Sydney Morning Herald when asked if they rely on their nanny to help with a lot of the child rearing. "That's what it's all about." Though he's certainly happy to have kids, George went onto say that parenting is not an experience he ever thought he'd have (echoing Amal's prior sentiments) and that he struggles to wrap his head around the fact that his twins are totally different, fully autonomous people. He told the Morning Herald:
I can't really understand just how fully formed they are as human beings. Five months ago, they weren't here. And this is who they are, this is who they're going to develop into and grow up to be, and we as parents just have to try our best not to mess them up. I want them to be happy and healthy and safe and it's our job to safeguard that to the best of our ability. And after that, it's like rolling the dice.
Though they certainly live extraordinary lives, it's refreshing to remember that between napping and first words and constructing all kinds of obstacle courses in order to breastfeed, Amal and George are, at the end of the day, just like any other new parents: trying their best, and laughing as they learn.
Check out Romper's new video series, Bearing The Motherload, where disagreeing parents from different sides of an issue sit down with a mediator and talk about how to support (and not judge) each other's parenting perspectives. New episodes air Mondays on Facebook.