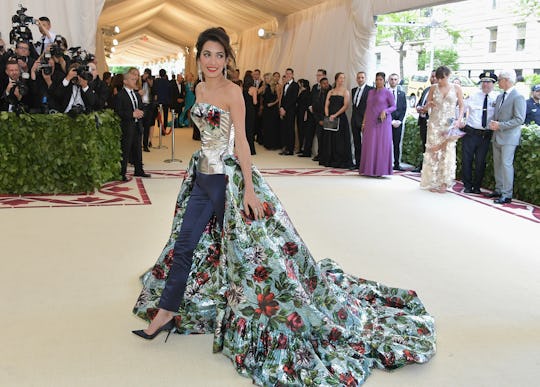 Neilson Barnard/Getty Images Entertainment/Getty Images
Amal Clooney's Met Gala Look Was Peak Pre-Fall Of Man
Amal Clooney is an internationally renowned lawyer, has clerked at the U.S. Court of Appeals, and advocated for human rights with the United Nations, so expectations were high for her outfit at fashion's most intellectual event. While some looks on some celebrities and models were a little wild, Amal Clooney's Met Gala look definitely showed that she had a lock on the concept.
They don't call the Met Gala the biggest night in fashion for no reason. Ever since the 1970s, the biggest names in Hollywood and fashion have come together to raise money for the Metropolitan Museum of Art's costume institute via $30,000 tickets and $275,000 tables. The black-tie affair is highly selective in attendees and asks guests to follow a theme for the evening. While most people who aren't invited typically don't know what's going on inside (the guests tend to keep hush hush, according to the New York Times), the major party is hosted by celebrities chosen to put their best foot forward. And this year, Clooney was chosen as one of them, along with fashion designer Donatella Versace, and Rihanna, according to Vanity Fair.
Her look for the night, designed by Richard Quinn, according to People, proved that she was the perfect candidate for the job as party co-host, taking the night's theme into consideration while looking absolutely stunning all the same. It was a cascade of roses — a symbol of martyrdom in Catholicism — on the skirt (she did carry twins), and some very shiny, gilded action up top that recalled a sort of "glamor party in the Garden of Eden before the fall of man" vibe.
Some people expected both Rihanna and Clooney to show up in Versace, according to HuffPost, especially since both women have rocked Versace's designs in the past and since she was a fellow co-host for the night. But Clooney did not disappoint with her decision to wear Richard Quinn looking absolutely incredible next to her husband, George, in her pantsuit and floor length dress combination and stealing the show away from some of the bigger names in fashion.
It's also fitting that Clooney just so happens to be on the cover of Vogue this month during the same month as the legendary party. In her cover story with Vogue, Clooney admitted that in spite of her career as a hardworking lawyer, humanitarian, and role as a mother to two twins, she loves having fun with fashion. Clooney said, according to Vogue:
I hate the idea that you somehow, as a human being, have to be put in a box. There's no reason why lawyers can't be fun — or actresses can't be serious.
Her look at tonight's Met Gala definitely proved that she knew how to have fun with fashion. Taking a cute from this year's theme, "Heavenly Bodies: Fashion and the Catholic Imagination," according to Vogue, Clooney could not have interpreted it any better with her bold floral printed, metallic skirt. And she had reportedly been working on her look for the evening for quite some time, working with a designer she adored to perfect her dress, according to PopSugar.
But of course, this wasn't Clooney's first time at the Met Gala. This is Clooney's second time ever attending the gala, according to Entertainment Tonight — she first attended the party in 2015 with her husband when the theme was "China: Through The Looking Glass" where she stunned in a bright red number. Although some people might have thought that her look might have been hard to follow up that year, her appearance at the 2018 Met Gala showed that she belonged there as a co-host.
After this appearance at the 2018 Met Gala, there will be no doubts that Clooney can now add "fashion icon" to her ever growing list of titles.
Check out Romper's new video series, Bearing The Motherload, where disagreeing parents from different sides of an issue sit down with a mediator and talk about how to support (and not judge) each other's parenting perspectives. New episodes air Mondays on Facebook.