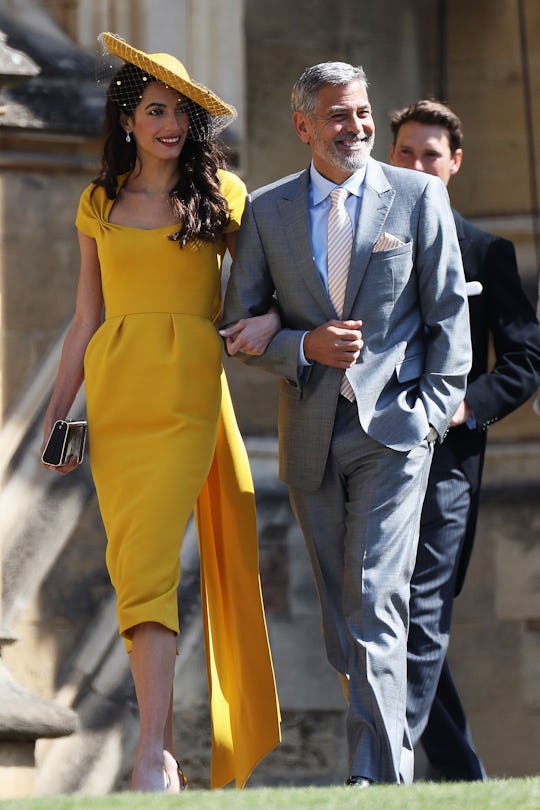 Chris Jackson/Getty Images Entertainment/Getty Images
People Are Obsessed With Amal Clooney's Royal Wedding Look
While the royal wedding was clearly always going to be an event in which guests were expected to bring their strongest fashion game, Amal Clooney's royal wedding outfit was, as usual, completely on point. The mom-of-twins arrived at Windsor Castle's St. George's Chapel wearing a beautiful golden yellow Stella McCartney sheath dress, complete with a train, and a matching veiled yellow hat. And though she may be used to looking glamorous at high-profile events (she even co-chaired the Met Gala earlier this month), she definitely didn't disappoint — together with her husband, George Clooney, the couple brought some Hollywood star power to the very regal and traditional British event.
Though Markle and Prince Harry could conceivably invite pretty much anyone to their wedding and feel pretty confident that they'd be more than happy to attend, a source told People magazine that, actually, Markle and Amal "have known each other for a while," and that they were introduced by a mutual friend. And since the Clooneys are primarily based in the UK, the two women are said to have "formed a friendship" now that Markle calls England home. Markle and Amal of course share a passion for women's rights and international diplomacy, having both worked with the United Nations. In fact, George and Amal were also two of the 200 individuals invited to the exclusive private evening party at Frogmore House hosted by Prince Charles, so it sounds like the couple are definitely friends of the couple, as opposed to simply being celebrity guests.
Of course, Amal Clooney rarely ever makes a fashion misstep, so it's no surprise that she cut such an elegant figure while also adhering perfectly to the strict dress code: according to The Express, male guests were specifically expected to wear military uniforms or morning suits, while women were to wear a knee-length "day dress" and hat. But even though a royal wedding always brings out some impressive fashion moments, Amal definitely seemed to win over those on social media, who felt she had completely nailed her royal wedding look:
Amal Clooney may have made quite the impression with her outfit choice, but she and George weren't actually the only A-listers who got an invite to the ceremony. Other notable celebrity guests included Oprah Winfrey, Idris Elba, Serena Williams, David and Victoria Beckham, Elton John, and Priyanka Chopra — all of whom showed up looking predictably fabulous — and though they might be considered big stars, their invites were still pretty impressive given that the couple only invited 600 guests into St. George's Chapel (which, considering that the Duke and Duchess of Cambridge had 1,900 guests at their Westminster Abbey wedding in 2011, according to The Sun, is as close as royalty can likely get to an intimate wedding).
Though they may have been some of the most high-profile guests at the royal wedding, having the chance to attend the event must have been quite the treat for the couple, as they've certainly had their hands full lately as parents to two young infants: their twins, Alexander and Ella, will turn one in June. And Amal's outfit certainly sent the message that, in a sunny, spring tone of yellow, she was excited to be out in the British countryside, dining in a castle and chatting up the other famous guests and fixtures of the British horse scene.
So if Harry and Meghan opted out of politics in creating their guest list, they weren't shy of extending an invitation to those devoted to diplomacy — including the Clooneys, of course, but also former British prime minister John Major. I guess in the end, Amal just ticks all the boxes.