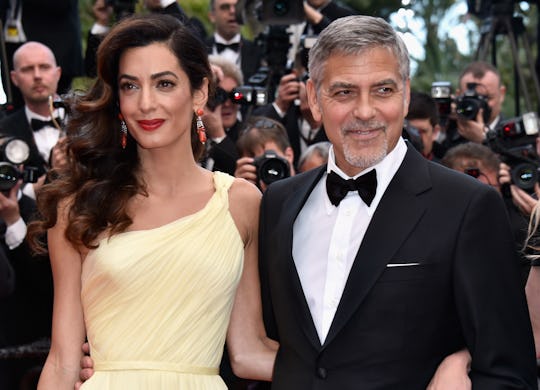 Pascal Le Segretain/Getty Images Entertainment/Getty Images
Amal & George Clooney Twins Memes To Make You LOL
It was recently announced that George and Amal Clooney are expecting twins and naturally the Internet freaked out. Romper has reached out to both George and Amal's rep for comment, but has yet to hear back. You can find some of the best Amal and George Clooney twins memes thus far below.
On Thursday, Feb. 9 host Julie Chen revealed on The Talk that the happy couple were expecting two bundles of joy. According to Chen, she confirmed that the couple were expecting in late January and that the babies are due in June. This news comes a week after Beyoncé broke the Internet with her news that she was expecting twins as well. The Queen's announcement on Instagram is now the most liked picture on the app and people were quick to make comparisons between her announcement and the Clooney's.
It hasn't been confirmed yet whether the Clooney's are having boys or girls, though close friends of the duo have supposedly told reporters that Amal and George are having a boy and a girl. But we'll just have to wait until they confirm it themselves to know for sure. The couple, who married in September 2014, is incredible private and keep their personal lives under wraps. It's kind of surprising that they allowed Chen to announce their pregnancy news at all, but the internet was happy to hear about it. Check out some of the best reactions below and see for yourself...
Some Instantly Made A Bey Comparison
Which is hilarious and all sorts of creative.
Others Let The GIFS Speak For Themselves
I mean, same, honestly. Also, I'm loving this twins theme that seems to be catching stream in 2017. Is this the newest Hollywood trend? Either way, I'll take double the Bey and double the Clooney for sure!
Some Put George's Reaction Front & Center
Some Predicted Beyoncé's Feelings About It
Then There Was Everything In-Between
Suffice to say, people had a lot of feelings about this new set of twins news and weren't afraid to take to social media to have some fun with it. But this is only just the beginning. The internet has until June to get even more creative, which is when Chen reported that Amal is due. Congratulations to the happy couple and soon-to-be parents!