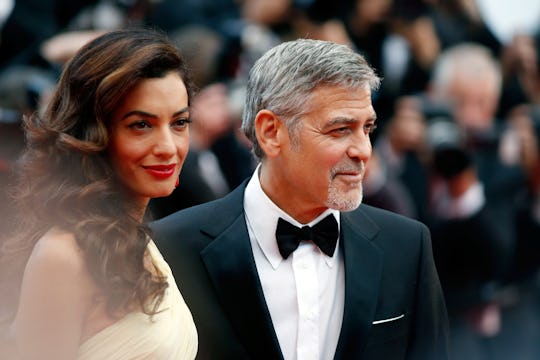 Tristan Fewings/Getty Images Entertainment/Getty Images
Amal & George Clooney Welcome Twins!
The world just added a little more good today, with the news that Amal and George Clooney welcomed twins on Tuesday. The fraternal twins are the couple's first children. In addition to announcing that they are two very proud parents, the couple has released the names of their new baby son and daughter: Alexander and Ella. In a email to USA Today, the couple's spokesperson said the following:
This morning Amal and George welcomed Ella and Alexander Clooney into their lives. Ella, Alexander and Amal are all healthy, happy and doing fine. George is sedated and should recover in a few days.
George, who was known for never really wanting kids, although he always seemed to have an open mind. He seemed to change his tune in the recent years — especially since marrying Amal. In 2006, George told People magazine that becoming a parent is "the most responsible thing you can do." "I don't have that gene that people have to replicate," he said at the time. "But everything in my life has changed over time," he also said. Change they did, as George very clearly became a proud father-to-be during Amal's pregnancy.
The birth announcement certainly pokes fun at the idea that George has gone on the record admitting his hesitations to children years ago. Once dad recovers in days to come, he and Amal will hopefully share photos of their daughter and son (who have the classiest names, but what else would you expect).
Despite rumors, George denied knowing what the couple was having, and even said that they were planning on being surprised when the day came. He told People the following in February:
I don't know where this rumor comes from that we're going to have a boy and a girl. We ourselves don't know yet and don't want to know.
Throughout her pregnancy, Amal was a beacon of strength and power, two words that describe her every single day as a human rights attorney. During her pregnancy, Amal continued her work and even took on ISIS crimes. So, there is no doubt that she will be the most badass mom Ella and Alexander could ask for. And, as for dad, once he's standing again, he'll be pretty fun to have around, too.