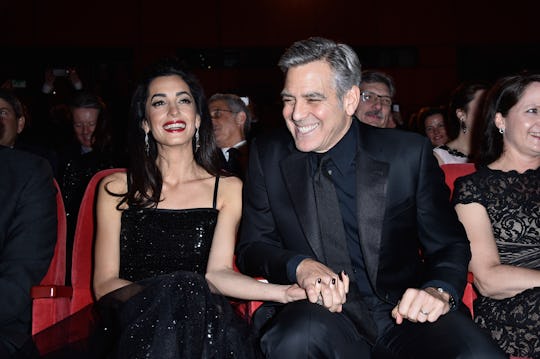 Pascal Le Segretain/Getty Images Entertainment/Getty Images
Amal & George Clooney's Birth Announcement Pokes Fun At His Past
After years of much-storied bachelorhood, many fans of George Clooney thought the actor might never choose to start a traditional family – and gossip magazines certainly liked to speculate about it. But then Clooney married human rights attorney Amal Alamuddin and not long after the two announced they were expecting twins. Their children were born today, and Amal and George Clooney's birth announcement pokes fun at past expectations of the actor.
The couple's spokesman Stan Rosenfield announced the birth of their twins in an email to USA Today, which read, "This morning Amal and George welcomed Ella and Alexander Clooney into their lives. Ella, Alexander and Amal are all healthy, happy and doing fine. George is sedated and should recover in a few days."
It's as charming an announcement as it is straight to the point, giving curious fans the relevant information with some extra personality. It's definitely suits Clooney to inject a little wry humor into a typical birth announcement, especially when the state of his personal life was up for personal debate for decades. It's not clear if he or his publicist penned the announcement, but based on that joke it's clear Clooney had a hand in it either way.
In years past, Clooney seemed certain that he wouldn't be having kids, though he didn't entirely shut down the possibility. It just wasn't a priority for him at the time. In 2006, he told People magazine, "I don't have that gene that people have to replicate. But everything in my life has changed over time."
It definitely seemed to change with his marriage to Amal, who he cited as giving him new optimism about his life. "I've always been an optimist about the world," he said in another interview with People in 2015. "I wasn't always completely optimistic about how it was going to work out personally for me. But now I am."
Clooney has handled all the changes in his life with typical good humor, as fans have come to expect from him. He was even poking fun at possible baby names a few months ago when chatting with Entertainment Weekly. "My wife says I can't name them Casa and Amigos," he said, referencing his tequila company Casamigos. "That's the one thing I'm not allowed to do. It was just a thought. I mean, you know it's a family business."
Whether it's joking about baby names or being sedated following the birth of his children (anyone would need a nap before preparing to raise twins, right), Clooney's sense of humor is sure to get him through any tough moments. Like, for example, two babies crying in unison at four a.m. He should enjoy the sedation while he can.